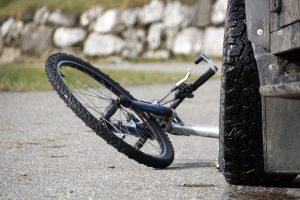 Woman Hospitalized after Bicycle Crash on South Bay Boulevard near Turri Road

SAN LUIS OBISPO, CA (July 26, 2021) — A woman suffered injuries in a bicycle accident on South Bay Boulevard on Tuesday, July 20.

Officials said the crash occurred at around 9:50 a.m. on South Bay Boulevard near Turri Road.

According to California Highway Patrol, an Arroyo Grande woman in her early 70s, was in the bike lane moving southbound on South Bay Boulevard. Then she attempted to make a left-hand turn onto Turri Road.

Officers said she turned directly in the path of a box truck. The truck driver attempted to avoid the collision. However, a mirror on the truck struck the woman on the back and threw her off her bike.

When officials arrived on the scene, she was unconscious, but they say she was awake at the trauma center.

Officers shut down South Bay Boulevard for around 20 minutes.

The driver of the truck reportedly dialed 911 and stayed on the scene until officers arrived.

When riding a bicycle, always wear a helmet and protective gear. Be alert at all times. Obey all traffic laws. By doing so, you can prevent dangerous accidents.
---
If you have been involved in a bicycle accident that has resulted in an injury, now is the time to file a personal injury case. A personal injury attorney from The Law Offices of Daniel Kim can help you get the financial compensation you deserve. We are a top-rated personal injury law firm with a 99% success rate. We strive to help all accident victims get fair compensation for their pain and suffering. Our experienced team of attorneys can guide you through the process. We will fight for you when it's time to make your claim. Call us today at (800) 895-7199 for a free consultation.