A Trusted & Proven Victorville Car Accident Lawyer
The Law Offices of Daniel Kim is knowledgeable and well-versed in Victorville's traffic laws and rules of the road. Our lead attorney Daniel Kim and his legal team specialize in motor vehicle accidents and have a winning track record of awarding clients maximum compensation. When you work with our Victorville car accident attorney, you will receive strong representation with no upfront cost. Contact us for a free consultation.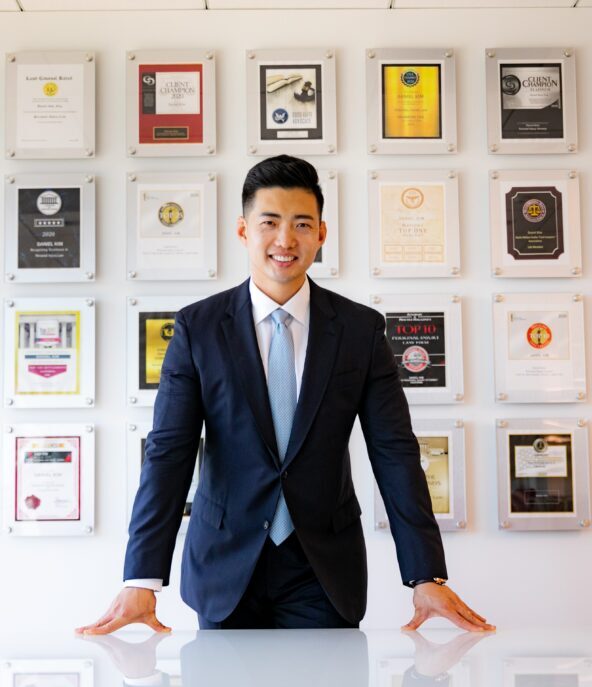 We are proud to serve local residents and communities in nearby neighborhoods and surrounding cities throughout San Bernardino County including: Hesperia, Apple Valley, Barstow, Phelan, Oak Hills, Big Bear Lake, Adelanto, Baldy Mesa, Pinon Hills, Spring Valley Lake, Summit Valley, Wrightwood, El Mirage, Helendale, Lucerne Valley, Oro Grande, Silver Lakes, Twin Peaks, Blue Jay, Lake Arrowhead, Cedar Glen, and Crestline.
Daniel Kim is a premier Victorville personal injury lawyer with a decade's worth of experience protecting the legal rights of car accident victims and fighting to recover damages rightfully owed to them. Putting his clients first is a dedication and promise that has defined his success. If you or someone you know need the trust and knowledge of an experienced car accident lawyer in Victorville, let us know. We'll let you know exactly what we can do for you.
Other Practice Areas We Specialize In
---
Were You Seriously Injured in a Car Accident in Victorville, CA?
With its proximity to the famous Route 66 and Mojave Desert, Victorville, CA is a small but growing city of 135,000 residents. With a constant influx of new residents and visitors making their way to Las Vegas, car accidents have been on the rise. San Bernardino County reported 16,123 injuries and fatalities from vehicle collisions in 2019, a stark 35% increase from 2010.
When drivers speed, text, or disregard local traffic laws, they put everyone, including themselves, in danger. A multi-vehicle accident or rear-end collision can have long-lasting effects on a person's mental and physical health. When you have been injured in an accident, there are options to regain your livelihood and recover losses incurred.
If you or someone you know were seriously injured in a motor vehicle accident, contact our experienced Victorville car accident lawyer today for a free consultation. Find out if you may be entitled to compensation from your accident due.
---
Why Hire Daniel Kim as Your Victorville Car Accident Lawyer?
Recognized by The National Trial Lawyers and The National Academy of Personal Injury Attorneys, Daniel Kim is an award-winning car accident lawyer who cares deeply about his clients. He works with clients across Southern California, and his robust team works around the clock to dedicate ample time to each case that comes up.
Our team will conduct a thorough investigation into your accident in order to build a strong, successful case to the insurance company. Here's an overview of what our firm offers:
Exclusively deal with motor vehicle accidents
Maintain a 99% success rate
Recovered over $250 million for clients
Assistance with finding medical treatment
Offer a free, no-obligation consultation
No fees until we win your case
We are dedicated to seeking justice for victims. This is why we're available to serve you 24 hours a day, seven days a week.
No Win, No Fee Guarantee.
Our law firm operates on a contingency fee basis. In addition to a free initial consultation, our clients can rest assured that we do not charge any upfront fees when you hire us as your car accident lawyer. Our attorney agrees to take on a case and work on a contingency basis, which means they are paid only when clients receive a settlement or judgment in their favor. If the case is not successful, the attorney does not receive any payment. This type of agreement allows our clients, who may not have the financial resources to pay for a lawyer upfront, to still have access to legal representation and pursue compensation for their injuries or damages. It incentivizes us to work diligently on a case to help our clients successfully obtain the compensation they need and deserve.
---
Do I Need a Lawyer?
After an accident, victims might be hesitant to reach out and speak with car accident lawyers. Some are intimidated by the legal expenses. Others believe they can win their case on their own. Statistics show that working with a lawyer not only strengthens your chances of winning, but also raises your compensation amount.
Attempting to settle a dispute without legal representation carries many risks, like settling for the first lowball offer. Working with an experienced Victorville personal injury lawyer will provide a clear understanding of the legal process and your path forward. You will also have insight into how much your accident claim is actually worth.
Insurers make it a priority to award victims the lowest settlement possible. When you work with a car accident lawyer, you are more likely to receive the compensation that is owed to you rather than the first offer. We help our clients get maximum compensation and will go to trial if necessary in order to get the highest settlement.
If you are wondering "when should I contact a lawyer after my accident?" the answer is as soon as you can. After an accident, you have two years from the date of the accident to file a personal injury claim under the statute of limitations in California. The sooner you contact a Victorville car accident attorney, the better chance you'll have of protecting your legal rights.
---
What Is My Claim Worth?
Every claim is unique, and there is not a simple answer. However, a more detailed settlement amount is determined when you consult with an attorney. Variables that will affect the worth of a claim include:
Medical bills: A claim will most likely cover your current and future medical treatment from your accident.
Lost wages: You can recover lost wages if you missed work due to your injuries and recovery.
Permanent physical injuries: Bodily injuries resulting in permanent damage, disability or disfigurement can substantially raise the amount of your claim.
Personal property damage: Damage to your vehicle or other property is generally covered in car accident claims.
Pain and suffering: A claim can also include "non-economic" damages such as physical pain and mental suffering, emotional distress, etc.
Wrongful death: If your loved one died in an car accident due to another person's negligence, you can file a lawsuit.
Essentially, the more serious your injury and damages are, the more potentially valuable your case will be. Insurance adjusters may attempt to downplay the value of your case. This tactic is often utilized by insurance companies to pay a lower settlement amount. Speaking with a car accident lawyer means you won't be forced to settle for the lowest offer.
---
What Causes Most Car Accidents?
Highways in the high desert are notorious for speeding. When the road is long and open, drivers may feel they can disregard the speed limit. However, this reckless mindset can cause serious and even fatal results. Below are some of the most common reasons for accidents in Victorville, CA:
Speeding/reckless driving: The faster the speed, the slower the reaction. Speeding drivers will not be able to stop in time, causing serious accidents.
Drunk driving: Driving while under the influence of alcohol and/or drugs inhibits decision-making skills and slows reaction time.
Distracted driving: People who use their smartphone while driving pose a serious threat to pedestrians or cyclists who have far less protection.
Drowsy driving: Some studies have shown that driving while tired has the same effect as driving under the influence.
Improper/illegal turns: All motorists must follow traffic laws and should never compromise safety to catch an exit or make a last minute turn.
Night driving: Driving on pitch black roads can be extremely dangerous, as visibility is scarce.
Running intersections: Many accidents occur in intersections because drivers fail to respect rules.
---
Who Is Liable in a Car Accident?
If you have suffered injuries in an accident and want to file a claim, you must be able to prove that the other driver was at fault. In order to prove negligence in a case, you must show that the other driver had a duty of care to drive safely and respect the law, he or she breached that duty, caused you damages, and you suffered losses, both financially and non-financially. Generally, police reports, medical records, and eyewitness statements are used to show the insurance there was a clear liability.
Sometimes, one driver may not be 100% at fault for an accident. In California, the comparative negligence law (partial liability) allows victims to recover damages even when he or she is partially at fault for the accident. For example, if the victim is 25% at fault for the accident, he or she would be able to recover 75% in damages.
Determining fault in a multi-vehicle can get complicated quickly. Talking to an experienced car accident attorney will help you understand your case and how you can proceed with a solid case.
---
What to Do in a Car Accident
Unfortunately, even the most cautious drivers can get into traffic accidents. If you were involved in a car accident, follow these steps:
Call the police – Always involve the authorities. They will control the situation and keep everyone calm. An officer will also create a detailed police report, detailing what took place. This report will be beneficial when filing a claim.
Exchange driver's information – Make sure to take a picture or write down the other driver's license plate number, insurance information, and driver's license details. You will also need to provide your driver's information, as well. Both parties are legally obligated to present this information.
Talk to eyewitnesses – If anyone witnessed the accident take place, take note of their names and contact information.
Document information – Keep a written account of the setting, including the time of day, city and cross streets of the crash, what lane you were in, etc.
Take pictures – Take pictures and videos with your phone. Be sure to capture visuals of the scene of the accident, all of the cars involved, and your injuries. If your phone was destroyed, ask a witness or officer to take pictures.
Get medical attention – Even if you think you are not hurt, it's important to seek medical attention after a car accident. When you seek treatment, keep your records as proof of your injuries. An early diagnosis will correlate immediate physical damage to the accident.
Do not discuss fault – Do not sign anything from the insurance company, and do not share any information without a lawyer present.
Contact a Victorville car accident lawyer – If you don't know whether or not to hire an injury attorney, begin with a consultation. By doing so, you will have legal guidance about the claims process and compensation. The best car accident lawyers will be more than willing to provide an initial case evaluation at no charge.
Victorville car accident lawyer Daniel Kim and his award-winning team understand the mental, physical, and financial burden an accident can cause for victims. This is why we work on a contingency basis. In the unlikely event that we do not win your case, you will not be responsible for any legal fees.
---
What to Do in a Hit-and-Run Accident
A hit and run accident could be a minor fender bender or a far more serious event causing major harm, especially when pedestrians or cyclists are involved. A driver commits a hit and run when they:
leave the scene of an accident.
fail to identify themselves to the other parties involved.
damage property or cause someone to be injured.
In California, hit and run accidents can be classified into two types: misdemeanors and felonies. Regardless of who is at fault, drivers are required to stop and exchange information before leaving the scene of an accident. If the at-fault driver is found, the victim can file an injury claim for damages against the driver's insurance claim. If the driver is not found, the victim can file a claim with their own insurance policy.
If you have been injured in a hit-and-run, do not leave the scene of the accident and call the police immediately. Before speaking with your insurance, contact a hit-and-run attorney who can help you recover damages through the at-fault driver's insurance company or your own insurance provider. Contact us today for a free, no-obligation consultation on your hit-and-run case.
---
What Are the Most Common Injuries?
There are many factors that determine what type of injuries car accident victims may suffer. Examples include the type of car you were driving, the impact of the collision, if multiple vehicles were involved, or other variables. Common injuries include:
Spinal cord injuries – Minor to severe whiplash causing head, neck, or back trauma
Rotator cuff injuries – Joint/tissue damage
Meniscus injuries – Injury to the leg area affecting standing and walking
Fractures/Broken bones – If left untreated, the bone can heal incorrectly making normal, everyday activities difficult
Head trauma – Traumatic Brain Injury (TBI) can become life-threatening if left undiagnosed
Amputation – Catastrophic injuries that require surgery and the removal of a limb
Wrongful death – When the crash results in the death of a family member or loved one
---
Frequently Asked Questions
Do I Need a Police Report to File a Claim?
In California, drivers involved in accidents that resulted in injury or death have 24 hours to file a report with the California Highway Patrol or police department in the city where the accident happened. While it is possible to file a claim without a police report, reaching a settlement without one will be very difficult.
The insurance company might argue that the accident did not cause your injuries, or that you were mostly at the fault. If you are not able to obtain a police report, you will need to provide other forms of evidence such as eyewitness statements, photos, video surveillance footage, and black box data. You may also need to consult an accident reconstruction expert to give an opinion about the crash.
What Happens When the Other Driver Doesn't Have Insurance?
According to the Insurance Research Council, an estimated 16.6% of drivers in California are uninsured. The percentage of uninsured drivers is among the highest in the country, which makes the possibility of getting into an accident with an uninsured driver all the more real. If you get into an accident with a driver who doesn't have insurance, you can file a compensation claim with your own insurance company or file a lawsuit against the at-fault driver.
Should I See a Doctor After a Car Accident?
Absolutely. Even if you feel fine or see no visible injuries, you should still see a doctor after a car wreck. Not only is seeking medical attention important for your own well being, it also will help tremendously if you end up filing a claim. The insurance company might assume you are fabricating your injuries if you do not visit a doctor or seek treatment following your accident, so do your due diligence and get medical advice even if you are not hurt.
What if I Can't Afford My Medical Bills?
Injuries sustained in a motor vehicle accident will undoubtedly cause your medical bills to rise, giving you an enormous amount of stress. If you suffered injuries in an accident caused by someone else, that driver's insurance company will be held responsible for your medical expenses. You may need to cover your own treatment initially, but you can recover medical expenses when you file a lawsuit with the help of a Victorville personal injury attorney.
What Happens if Medical Bills Exceed Policy Limits?
It is required in California for drivers to maintain something called "bodily injury liability insurance" in case they injure someone in an accident. This insurance covers medical treatment, loss of wages, and other damages to cover the accident victim's costs. Most drivers will end up with the minimum 15/30/5 insurance. Here is what that means:
$15,000 in coverage for the death or bodily injury of one person in a single accident
$30,000 in coverage for the death or bodily liability of more than one person in a single accident
$5,000 for property damage
If medical treatment and other expenses exceed policy limits, the at-fault driver is personally responsible for covering the damages. Therefore, it is highly recommended that drivers purchase a higher minimum for their car insurance.
How Long Do Settlements Take?
All car accidents are different, so it is difficult to say how long a settlement will take. Depending on the severity of the accident and your injuries, it could take several weeks, months or years for a car accident case to settle. It's always best to consult with car accident lawyers as soon as you can so they can review the details of your case and give you a more accurate time frame.
---
Victorville Car Accident Statistics
With an increase of motorists and miles driven on the vast stretch of San Bernardino freeways and roadways, Victorville car accidents continue to spike. According to City-Data, fatal car crashes and road traffic accident statistics in 2019 are as follows:
Fatal accident count – 26
Vehicles involved in fatal accidents – 44
Fatal accidents involving drunk drivers – 6
Number of fatalities – 29
Fatal Accidents – 51
Pedestrians involved in fatal accidents – 10
Majority of accidents taking place on Sundays and Mondays
Dangerous Roads and Intersections
Southern California is notably one of the most congested regions in the U.S. Its large population and heavy year-round tourism make SoCal a hotspot for traffic collisions. The Daily Press warns of these dangerous roads and intersections in Victor Valley:
Amargosa Rd. and Bear Valley Rd.
Mariposa Rd. and Bear Valley Rd.
La Paz Dr. and Seneca Rd.
La Paz Dr. and Mesa Dr.
Ridgecrest Rd. and Bear Valley Rd.
Highway 395 and Main St./Phelan Rd.
In addition to these dangerous intersections, MoneyGeek analyzed data from the National Highway Traffic Safety Administration to determine the deadliest roads in California. I-15 between exit 138 and exit 129 in Hesperia and 1-215 from Exit 44B to Exit 39 in Colton were identified as some of the most dangerous roads in San Bernardino County.
---
Directions to Our Victorville Office
Our Victorville office is located right off the 15 freeway.

Car Accident Lawyer Daniel Kim — Victorville, CA
Address: 14359 Amargosa Rd Suite S, Victorville, CA 92392
Phone: (760) 552-7412

START YOUR FREE CONSULTATION