Lost a Loved One Due to Negligence? Let Us Help You Seek Justice.
While no amount of money will make up for the loss of a loved one, receiving compensation can financially prepare your family for the future. At The Law Offices of Daniel Kim, our Orange County wrongful death lawyers are prepared to fight for you and your family.
Losing a loved one due to the negligence of another is one of the worst tragedies someone can experience. Unfortunately, due to the frequency of automotive accidents, many families are torn apart after this devastating loss. In California, the deceased's spouse, child, partner, and other entitled individuals can file a claim and receive damages.
We understand this is a difficult time for you and your family. When you are ready to share your story, please schedule a free case evaluation with our Orange County law firm. The Law Offices of Daniel Kim offers our services on a contingency fee basis, so we do not charge any upfront legal costs and are only compensated after the case is won.
Pay Nothing Until You Win Your Case.
Schedule Your Free Consultation Today.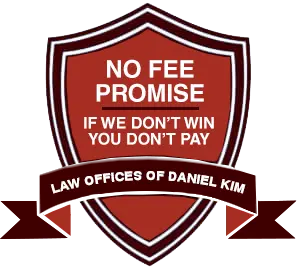 Navigating the aftermath of a wrongful death is an emotionally taxing experience, with families often struggling to obtain the rightful compensation they deserve. At our firm, renowned wrongful death lawyer Daniel Kim is dedicated to advocating for his clients, ensuring they receive the support they need during this difficult time and the compensation they are rightfully owed.
If you have lost a loved one due to the negligence or wrongful actions of another, seeking the expertise of an experienced wrongful death attorney is crucial to file a claim and secure the compensation you deserve for your loss. Rest assured, our services operate on a contingency fee basis, meaning we will cover all the legal fees upfront, so you won't have to worry about any out-of-pocket expenses. With an impressive track record of success, our team has helped numerous families attain maximum compensation for their wrongful death claims.
Schedule Free Consultation
Why Hire Daniel Kim as Your Orange County Wrongful Death Lawyer?
Undoubtedly, there is a plethora of wrongful death attorneys in Orange County to select from. The Law Offices of Daniel Kim has had the pleasure of helping numerous families throughout Southern California obtain the compensation they are rightfully entitled to following the untimely death of a loved one.
In our experience, we have found that people entrust their cases to us not just because we produce optimal results, but because our team is composed of sincerely compassionate individuals. The firm holds a perfect 10.0 Avvo Rating and an AV Preeminent Rating from Martindale Hubbell, both signifying the firm's professionalism, legal excellence, and ethical standards.
Our personal injury law firm maintains a 99% success rate and has assisted countless clients obtain full and fair compensation. To learn more about our firm or to inquire about your situation, please schedule a free consultation.
---
What Is a Wrongful Death Claim?
A California wrongful death case is categorized as a death that occurs when one party's negligence results in a personal injury accident and causes a fatal injury to another party.
These types of accidents are not due to intentional acts. Rather, they are a result of reckless actions, like texting and driving. In California, when a wrongful death occurs, surviving family members of the deceased can file a civil lawsuit against the party or entity responsible for the accident.
The purpose of filing wrongful death claims is to allow family members to recover economic damages, as well as be compensated for the emotional distress caused by the passing of their loved one.
---
Funeral and Burial Expenses

: Costs associated with the funeral and burial, including the casket, headstone, and funeral service

Loss of Consortium

: The loss of the deceased's companionship, love, and support

Lost Wages

: The income that the deceased would have earned

Medical Bills

: Medical care that was performed before the passing

Pain and Suffering

: The emotional turmoil experienced by the family
How Is the Compensation for Wrongful Death Damages Determined?
The value of a wrongful death lawsuit is based on a number of factors, such as financial losses suffered by the family, emotional distress, and the degree of fault by the defendant.
The amount of compensation that can be awarded in wrongful death cases depends on accumulated losses. These are just a few common examples of economic damages and non-economic damages that families can recover in a wrongful death case.
Schedule Free Consultation
How Our Orange County Wrongful Death Lawyer Offers Support
Losing a family member in a motor vehicle accident is traumatic. In addition, the challenge of receiving fair compensation adds more stress and hardship to an already difficult situation.
At The Law Offices of Daniel Kim, we're dedicated to helping our clients during this devastating period. Therefore, we will navigate you through the complex legal process and get you the compensation you deserve.
Professional Knowledge
After an accident, fractures need to be diagnosed quickly and accurately. This is why our wrongful death lawyers leverage a trusted network of medical professionals to perform the right tests. In addition, these physicians and specialists will provide the right diagnosis and treatment options.
Fair Compensation
We believe that "fair compensation" covers past and future medical expenses. This includes current treatment plans, as well as future pain management treatment and physical therapy. In addition, loss of income, emotional damage, pain and suffering are also taken into account.
Extensive Network
As a top-rated wrongful death lawyer, Daniel Kim connects clients with the best medical providers in the area. This includes psychiatrists, chiropractors, physical therapists, radiologists, orthopedic surgeons, pain management specialists, neurologists, and others. Therefore, if you must undergo therapy to address psychological trauma, we can connect you with a qualified medical professional in our network.
Who Can File a Wrongful Death Lawsuit?
California law permits specific family members to file a wrongful death lawsuit, as not all family members are eligible to file. Examples of eligible parties include:
Spouse
Domestic Partner
Children
Stepchildren
Parents
Siblings
Typically, immediate family members and individuals who were financially supported by the deceased can file a wrongful death claim.
However, there are some exceptions to the laws that govern personal injury accidents and wrongful death claims. To confirm who can file and clarify such legal complexities, consult with wrongful death lawyers in Orange County.
---
What Is the Statute of Limitations for Filing a Wrongful Death Lawsuit?
If the wrongful death accident occurred in Orange County, it would fall under the state's statute of limitations. In most personal injury cases, California law allows a two-year time limit from the date of injury to file a wrongful death claim.
However, if an injury becomes fatal, the date extends to two years from the victim's passing. If a wrongful death claim is not filed within the allotted time frame, the courts will dismiss the case.
To ensure important filing dates are not overlooked, consult with an Orange County wrongful death attorney. The Law Offices of Daniel Kim offers families a free consultation to inquire about their cases and get the filing process started.
---
How Do You Prove Wrongful Death?
In order to file a wrongful death lawsuit, it must be proven that the defendant's negligence catalyzed the accident. The following four elements will establish negligence:
Duty of Care: The defendant owed a duty of care to the deceased, which is a legal obligation to act with reasonable care to avoid harm
Breached Duty of Care: By failing to act with reasonable care, the defendant breached his or her legal obligation to avoid harming another party
Causation: The defendant's breached duty of care was a substantial factor in causing the fatal accident
Damages: Any losses suffered as a result of the wrongful death, including economic and non-economic losses
It is not legally required to work with a personal injury attorney to file a wrongful death claim. However, legal representation will be greatly beneficial in a wrongful death case, especially when battling the insurance company, as they will attempt to avoid paying back just compensation.
---
What Are the Different Types of Wrongful Death?
A wrongful death accident is any type of fatal personal injury accident that was caused by someone else's negligence. At The Law Offices of Daniel Kim, we specialize in cases involving motor vehicles, such as:
Car Accidents
Bicycle Accidents
Motorcycle Accidents
Commercial Truck Accidents
Lyft and Uber Accidents
Pedestrian Accidents
Frequently Asked Questions
Is wrongful death civil or criminal?
A wrongful death qualifies as a civil suit, not a criminal suit. This means that the accident was a result of negligence, not the intentional act to harm another person.
What should I do if I suspect a wrongful death but I'm not sure?
Wrongful death cases are cases that include if the victim's passing was unexpected, preventable, or caused by someone else's negligence (a person or business). Consulting with a wrongful death attorney is the best way to confirm the type of civil case.
Do I have to go to court for a wrongful death lawsuit?
No. In fact, most wrongful death lawsuits are settled out of court. The cost of going to trial is expensive, so insurance companies may be more inclined to settle. However, cases go to court when the parties involved cannot agree on a fair settlement.
How long does it take to settle a wrongful death suit?
Because of the value of most wrongful death cases, these types of cases can take months to a year to settle. Factors that affect how long the case will take to settle include obtaining evidence to support the wrongful death claim and the other party's willingness to settle.
What happens if the defendant is found not guilty in a wrongful death lawsuit?
An experienced wrongful death lawyer will help surviving family members explore other legal options if the defendant is not found guilty in a wrongful death lawsuit.
Contact The Law Offices of Daniel Kim Today
After losing a loved one, pursuing a claim might be the farthest thing from your mind. However, it's important to act quickly in order to ensure a strong claim. In addition, you will need to file your claim within the statute of limitations.
Without the right wrongful death lawyer, family members risk losing their case. As a result, they will not receive fair compensation. The team of legal professionals at The Law Offices of Daniel Kim understand this. We fight to protect victims' rights. In addition, we make sure our clients get the compensation they deserve.
If your family is in need of an expert Orange County wrongful death lawyer, start with a free consultation from us. Our law firm serves the Orange County area and throughout California including Aliso Viejo, Anaheim, Anaheim Hills, Brea, Buena Park, Costa Mesa, Cypress, Dana Point, Fountain Valley, Fullerton, Garden Grove, Huntington Beach, Irvine, La Habra, Laguna Beach, Lake Forest, Mission Viejo, Newport Beach, Orange, San Clemente, San Juan Capistrano, Santa Ana, Tustin, Yorba Linda, and more.