Were You Injured in a Lyft and Uber Accident in Orange County?
Rideshare services like Uber and Lyft have a history of disrupting every arena they enter, and automotive accident law is no exception.
Car accidents are confusing and stressful as is. However, when rideshare companies are involved, they become even more complicated. The laws regulating these services are still evolving, especially in Southern California. Also, they lead to a lot of legal confusion when a car crash occurs.
Between the insurance companies, treating your pain and suffering, and trying to work with Uber and Lyft themselves, filing a personal injury claim is complicated.
No Win, No Fee Guaranteed. Schedule Your Free Consultation.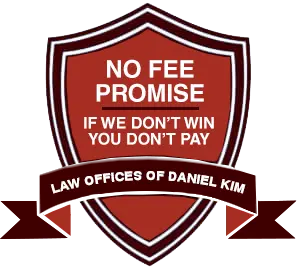 Without the right information, rideshare accident victims often lose out on receiving compensation. However, the Uber and Lyft accident lawyers at The Law Offices of Daniel Kim will help you. We have helped our clients navigate the complicated legal process. In addition, we have recovered the compensation they deserved.
If you have been involved in an auto accident with an Uber or Lyft rideshare vehicle, you may be eligible to recover compensation for your injuries. Contact The Law Offices of Daniel Kim today to talk to our experienced Lyft and Uber accident attorney in Orange County, CA.
Our law firm offers legal representation on a contingency fee basis. We'll advance all upfront legal fees, so you won't have to pay out of pocket for our services. You won't pay until we win your case. Plus, we'll get started with a free, no-obligation, consultation.
How Can a Lyft or Uber Accident Lawyer Help Me?
An Uber and Lyft accident lawyer can help you recover fair compensation for your injuries, medical bills, lost wages, and other damages. Insurance companies have their own team of lawyers on retainer and will not be inclined to offer a high settlement. An experienced Uber/Lyft accident lawyer will help you determine the true value of your case and will fight to protect your best interests.
Uber/Lyft accident cases often involve multiple parties, including the Uber or Lyft driver, the rideshare company, insurance companies, and potentially other motorists or pedestrians. It can be difficult to determine liability in a rideshare accident without an experienced attorney on your side.
At The Law Offices of Daniel Kim, we will thoroughly investigate the accident, gather evidence, negotiate with insurance companies, and represent your case in court if necessary. Without an attorney, you may not receive the settlement you deserve, and your legal rights may not be fully protected.
---
Can I Recover Compensation for a Rideshare Accident?
Compensation that can be recovered in an insurance claim can include economic and non-economic damages.
Economic damages are monetary losses that can be calculated with evidence like bills and receipts. These kinds of damages can include the following:
Emergency medical treatment
Medical bills
Ongoing medical expenses
Physical therapy costs
Car repair costs
Property damage
Non-economic damages are intangible losses that are not easy to quantify. These kinds of damages can include the following:
Pain and suffering
Wrongful death
Loss of enjoyment of activities
Scarring and disfigurement
Mental distress
Emotional trauma
---
What Are Common Causes of Rideshare Accidents?
Unfortunately, car accidents are a common occurrence in the Orange County area. In 2019, there were 17,722 total fatalities and injuries in OC traffic accidents. Every motor vehicle driver has a responsibility to operate their vehicle safely. However, Uber/Lyft accidents can occur when motorists are negligent and fail to follow traffic signs and signals. Some common causes of Orange County Uber accidents include:
Speeding
When drivers speed, it is especially dangerous because of the greater force of impact in a collision. Speeding is a leading cause of traffic accidents across the United States. In 2020, speeding was a factor in 29% of all traffic fatalities. Notably, there were 4,446 victims killed and injured in Orange County speeding-related crashes in 2019. Uber and Lyft drivers may be tempted to speed to make a certain pick-up or drop-off time or to receive a higher rating.
Distracted Driving
When drivers engage in non-driving activities while on the road, they put others at great risk. Distracted driving can include cell phone use, eating or drinking, using the GPS, or talking to a passenger. Rideshare drivers rely on their app for accepting rides and may use their phones during their travels.
Disregard for Traffic Signs and Signals
When motorists fail to obey traffic signs and signals, they can endanger others and cause auto accidents. The United States Department of Transportation states that more than 50% of fatal and injury accidents occur at or near intersections. For instance, an Uber or Lyft driver might run a red light to expedite the rider's arrival at their destination.
Drowsy Driving
When motorists drive while fatigued, it greatly lowers their cognitive abilities and quick-decision making. Uber/Lyft drivers may drive consecutive hours with few breaks, which can significantly increase the risk of Lyft and Uber accidents.
Driving While Intoxicated
When motorists get behind the wheel while intoxicated, their judgment, cognition, reaction time, and vision are significantly reduced. Each day, about 32 people are killed in drunk-driving accidents across the US. In 2019, there were 1,764 fatalities and injuries caused by alcohol-related crashes in Orange County. Uber's US Safety Report reveals that 23% of the traffic fatalities related to the Uber platform were caused by intoxicated third-party drivers.
---
Does Lyft or Uber Compensate for Accidents?
Lyft and Uber provide insurance coverage in the event of an auto accident involving their driver. Both companies have a $1 million insurance policy that covers their drivers, passengers, and third parties. However, there are different periods that determine the insurance coverage provided.
Period 0
During this period, the Uber/Lyft driver's app is off and their personal auto insurance policy applies. In California, it is mandatory for every driver to carry auto insurance that meets the minimum coverage requirements:
$15,000 of bodily injury liability coverage per person injured in a collision
$30,000 of bodily injury liability coverage per collision
$5,000 liability insurance for property damage per collision
Period 2 and 3
During period 2, the Uber/Lyft driver accepted a ride request and is en route to pick up the passengers. Period 3 is when the driver is transporting passengers. Uber and Lyft's $1 million insurance policy is triggered during both periods 2 and 3 and provides coverage for the Lyft/Uber driver, the rider, and third parties. It also includes uninsured or underinsured motorist coverage.
Is Lyft or Uber Liable for Their Drivers' Negligence?
Lyft/Uber drivers are classified as independent contractors rather than employees, which makes it more difficult to hold the ridesharing companies liable for their drivers' negligence. However, both companies provide insurance coverage for passengers and third parties in the event that their driver causes an Uber/Lyft car accident.
California law upholds the principle of pure comparative negligence in personal injury claims. This means that each party involved in an accident will need to file an insurance claim with the at-fault party's insurance company. When more than one person caused an accident, the at-fault parties involved will be responsible for paying damages according to their percentage of fault.
For instance, if a rideshare driver is found to be 80% responsible for causing an accident, while their employer is found to be 20% responsible, both parties can be held accountable for damages. A skilled Uber and Lyft accident attorney understands the complexities of rideshare accident cases and can help you hold the at-fault parties liable.
---
Lyft and Uber Rideshare Accident Statistics
Whether you are driving your own car or using a rideshare service, the risk of getting into a car accident is not unlikely. From 2019 to 2020, 91 fatal Uber-related accidents resulted in 101 auto accident fatalities. Uber claims that third-party drivers are responsible for 94% of these accidents.
Regardless of whether an Uber driver or a third party causes a car crash, seeking medical attention immediately and consulting with a skilled Orange County car accident attorney is crucial. Lyft and Uber accident attorneys can assist you in filing a claim to pursue the compensation you deserve. At The Law Offices of Daniel Kim, we will defend your rights and negotiate with the rideshare company and insurance companies on your behalf.
What Should You Do if You Were Injured in an Uber or Lyft Accident?
The claims process begins as soon as an accident occurs. Be mindful of a few key steps to strengthen your case:
Do not admit fault

Get a police report

Collect the contact information from any witnesses
EXTRA STEPS TO TAKE AFTER AN ACCIDENT:
1. CALL THE POLICE
Call 911 and stay at the accident scene until the police arrive. A police officer will create a police report which has important information like the officer's findings on how the accident may have occurred, statements from the drivers, witnesses' contact information, and if there were any traffic citations. Request a copy of the police report and keep it for your records.
2. SEEK MEDICAL ATTENTION
In any car accident, there is a risk of sustaining serious injuries. Even if you believe you only suffered minor injuries, it's crucial to seek medical treatment as soon as possible. Get a proper medical evaluation and ensure you follow the treatment plan prescribed to you. Collect your medical records as they are vital evidence in your personal injury claim.
3. GATHER INFORMATION
Take notes or record yourself explaining in detail how the accident occurred and the injuries you sustained. If you are able to, take photographs and videos of your injuries and the damage to your vehicle. Exchange the following information with all the parties involved:
Full name and address
Insurance information
Driver's license
License plate number
The make, model, and color of the vehicle involved
5. DON'T NEGOTIATE WITH THE INSURANCE COMPANY
The rideshare driver's insurance company will contact you and ask for a statement. However, don't provide any details about the accident or your injuries. Insurance and rideshare companies may try to take advantage of unrepresented accident victims involved in a crash. They will try to undercompensate you for your injuries and medical expenses to protect their bottom line.
Instead, it's best to consult with an Uber/Lyft accident attorney who will protect your rights and help you calculate the true value of your claim.
6. CONTACT A LYFT OR UBER ACCIDENT ATTORNEY
Our award-winning car accident lawyer can take on any opponent, including large corporations and insurance companies. If you have recently been involved in an accident, contact our Orange County Lyft and Uber accident attorney today to schedule a free consultation.
Contact Our Uber & Lyft Accident Lawyer in Orange County, CA
If you suffered injuries in a serious accident caused by a negligent driver, it is crucial to consult with an Orange County personal injury lawyer to discuss your legal options. At The Law Offices of Daniel Kim, we prioritize our clients' needs and specialize in auto accidents. Our rideshare accident lawyer is dedicated to helping injured victims obtain the maximum compensation possible. With a 99% success rate, we have recovered over $250 million in compensation for our clients.
Our law firm places great importance on responsiveness and is available 24/7 through phone, email, and live chat. We will protect your best interests and provide you with the strategic legal advocacy you need to win your case. Contact us today to explore your legal options.
If you or someone you know are in need of legal representation after an accident involving an Uber or Lyft vehicle, get started with a free consultation with our expert pedestrian accident lawyer. We serve our clients at meeting locations in cities throughout Orange County including Aliso Viejo, Anaheim, Anaheim Hills, Brea, Buena Park, Costa Mesa, Cypress, Dana Point, Fountain Valley, Fullerton, Garden Grove, Huntington Beach, Irvine, La Habra, Laguna Beach, Lake Forest, Mission Viejo, Newport Beach, Orange, San Clemente, San Juan Capistrano, Santa Ana, Tustin, Yorba Linda, and more. Find our expert truck accident lawyer near you to get started on your free consultation.