Were You Seriously Injured in a Pedestrian Accident in Orange County?
In the U.S. in 2017, nearly 137,000 pedestrians had to go to the emergency room after being struck by a vehicle, and 5,977 more were killed. These numbers prove that pedestrians are by far the most vulnerable population on our streets.
It would be impossible to navigate our daily lives without walking along sidewalks and crossing streets. Therefore, the most we can do is stay aware of our surroundings.
Accidents involving pedestrians are extremely serious and often result in severe injuries such as spinal cord injuries, traumatic brain injuries, tissue damage, and sometimes death. However, pedestrians are very rarely found to be at fault in auto accidents. An experienced pedestrian accident lawyer can help you file a successful claim. In addition, an attorney can make sure injured pedestrians and their loved ones get the compensation they deserve.
No Upfront Fees. Pay Nothing Until You Win.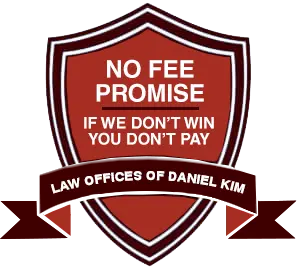 We understand that pedestrian accidents cause devastation, not just to the victims, but to their families, as well. Between mounting medical bills, withstanding pain and suffering from injuries, and losing wages while out of work, there are a number of stresses surrounding accidents.
The Law Offices of Daniel Kim aims to alleviate those stresses with our no-win, no-fee guarantee. We operate on a contingency fee basis, so our law firm never charges for legal services unless the case ends in a maximum payout for clients.
We also offer a complimentary case evaluation to begin the process, allowing potential clients to first meet with our legal team and determine if we're the right fit. To learn more, schedule a free case evaluation today.
Is It Worth Hiring Pedestrian Accident Lawyers?
Everyone is entitled to represent themselves in a pedestrian accident case, and legal representation from Orange County pedestrian accident attorneys is not mandatory. However…
Hiring a pedestrian accident lawyer greatly increases the chances of winning a personal injury case. In fact, according to the American Bar Association, claimants who worked with an attorney recovered 3.5 times more compensation than those who did not work with an attorney.
Additionally, a study by Martindale-Nolo found that those who hired an attorney in a personal injury claim received an average of $44,600 per accident case, compared with $13,900 for those who independently handled their case.
The Statute of Limitations in Orange County, CA
Pedestrian accident cases are complicated, and there are many options to consider. The legal system allows for a case to be settled out of court, while others go to trial. A personal injury lawyer will assist in helping clients navigate the legal system, advocating the best approach to get a case win, while also considering the statute of limitations.
In California, injured pedestrian accident victims have two years from the accident date to file a claim against the other party and recover compensation. However, if a government vehicle was involved in the pedestrian crash, that date can be reduced to just six months. If the filing date passes, legal action can no longer be taken.
Winning a personal injury case against the insurance company is dependent on multiple factors, but as research shows, working with an attorney increases the chances of winning and ensures that all paperwork is submitted on time, preventing the case from being compromised.
---
Why Hire Daniel Kim as Your Orange County Pedestrian Accident Lawyer?
Without the right legal team and resources, negotiating for maximum compensation will be extremely difficult, as insurance companies are determined to reduce settlements by as much as possible. The Law Offices of Daniel Kim has recovered over $250 million in verdicts and settlements, fighting to protect clients' best interests. Our Orange County law firm will provide the following:
In-depth investigation to establish fault on the other party
Collaboration with expert witnesses to strengthen the claim
Obtain supporting evidence, such as witness statements, police reports, and video surveillance
Aggressive representation during negotiations and the litigation process
White glove service, personalized to fit each client's individual needs
Work on a contingency fee basis, with no upfront costs or legal fees if the case is not won
24/7 access to our dedicated client care team
Pedestrian accident cases are complex and time-consuming. Working with a knowledgeable and experienced personal injury lawyer will make a significant difference in the outcome of a case against the insurance company. To discover how we can assist you recover the full and fair compensation you deserve, please schedule a free consultation.
---
What Can I Expect from a Personal Injury Claim?
When filing a pedestrian accident claim, the victim can be compensated for injuries and losses. To determine how much compensation can be recovered, economic damages and non-economic damages must be evaluated.
Economic damages account for all current and anticipated out-of-pocket expenses. Conversely, non-economic damages do not have a monetary value and account for intangible losses that can still be compensated. Examples of each include:
Accumulated medical expenses
Diminished outlook on quality of life
Future medical expenses
Loss of companionship
Lost Wages
Pain and suffering
Permanent disability
Reduced earning potential
Wrongful death
If the pedestrian accident caused a fatal accident, the surviving family can file a wrongful death claim against the at-fault party. This type of claim reimburses families for medical costs and funeral expenses. It also compensates for the loss of income if the defendant was a financial provider.
What Are the Main Causes of Pedestrian Accidents?
Orange County ranks in the top 25 of counties in the US with the highest pedestrian accident fatality rate. Additionally, most pedestrian accidents occur at crosswalks, when it's dark out, and during peak traffic hours–all of which resulted in devastating injuries. Examples of the main causes of pedestrian accidents include:
Backing up: motorists backing out of parking spots and not checking the rearview mirror or for blind spots
Driving under the influence: motorists under the influence of drugs or alcohol compromise their reactions and choices
Lack of sidewalks: when pedestrians are not provided with a safe route to walk, becoming more vulnerable to reckless drivers
Left turns: car drivers turning left and speeding through the crosswalk intersection without stopping for crossing pedestrians
Not making complete stops: motorists who fail to fully brake at stop signs and yield for crossing pedestrians
Reduced visibility: the time of day and when it's dark out make pedestrians less visible
The National Highway Traffic Safety Administration (NHTSA) has found that most Orange County pedestrian accidents involved a speeding car, distracted drivers, driving under the influence of drugs or alcohol, or a motorist who was engaged in another form of reckless driving. When someone else's negligence causes a pedestrian accident, victims are entitled to seek damages.
---
The Insurance Company Can Place a Pedestrian At Fault
Fault in a personal injury claim comes down to whose negligence caused the accident. If a pedestrian's actions caused the accident due to jaywalking, for example, the pedestrian can hold legal liability, as well.
However, California is an at-fault state. Therefore, if the other involved party contributed to the accident, that party can also be found liable. The state's comparative negligence laws hold each party accountable and reduce compensation by the claimant's percentage of fault.
So, if a pedestrian was jaywalking and was struck by a speeding motorist, both parties could be found liable. If the courts find the pedestrian 10% liable, the drunk driver would still owe 90% of the final compensation. For cases involving partial liability, it's vital to seek representation from an Orange County pedestrian accident attorney, so the case does not result in a total loss.
---
What Are the Most Common Pedestrian Accident Injuries?
Similar to bike accidents and motorcycle accidents, pedestrians are susceptible to serious injuries. Physical injury, as well as psychological trauma, can range from minor injuries to severe injuries, including:
Broken bones
Catastrophic injury
Internal bleeding
Lacerations
Organ damage
Post-traumatic stress disorder
Road rash
Soft tissue damage
Spinal cord damage
Traumatic brain injury (TBI)
Wrongful death
If any of the common injuries or another form of injury is sustained, it's important to seek immediate medical care and follow the doctor's treatment plan. The medical report will confirm what bodily harm was suffered and the medical expenses associated with treatment.
---
Orange County Pedestrian Accident Statistics
Pedestrian accidents are more likely to occur in certain areas and at certain times of the day. Data suggests that three out of every four pedestrian fatalities occurred after dark. Additionally, 74% of fatal pedestrian accidents occurred on non-freeway arterials, which are main roadways and not freeways.
Pedestrian accidents have continuously increased in California throughout the years, accumulating to over 3,600 in Orange County from 2017-2021. As a result, the Orange County Transportation Authority (OCTA) has begun constructing campaigns to increase pedestrian safety. The campaign emphasizes the importance of using crosswalks, obeying traffic signals, and walking on designated pedestrian pathways, like sidewalks.
In addition, the OCTA is partnering with the Orange County Sheriff's Department to increase the enforcement of California law as it pertains to pedestrian safety. For example, the Sheriff's Department is launching a public education campaign to encourage drivers to be more aware of pedestrians, cyclists, and other vehicles.
Another implementation is investing in the county's infrastructure to make roads safer for pedestrians and other road users. Part of the plan includes installing more crosswalks to prevent jaywalking, adding signage to direct traffic, and improving street lighting to make pedestrians more visible when it's dark out.
Dangerous Roads and Intersections
California Highway Patrol (CHP) has reported that the number of pedestrian accidents has increased in the state. The following roads have been found to be the most hazardous:
Alicia Pkwy.
Beach Blvd.
Bristol St.
Chapman Ave.
Jamboree Rd.
Laguna Canyon Rd.
Ortega Hwy.
Pacific Coast Hwy.
WHAT TO DO AFTER YOU'VE BEEN INJURED IN A PEDESTRIAN ACCIDENT
The legal process starts as soon as an accident occurs. If you are well enough, it's important to remember three key things for your pedestrian injury case:
Never admit fault

Always get a police report

Take down the contact information of any witnesses
ADDITIONAL STEPS TO TAKE FOR YOUR PROTECTION:
1. MOVE TO SAFETY
Move away from oncoming traffic and to the side of the road before proceeding with any other steps. Ensure safety is never compromised.
2. CALL 911
Immediately call the police to report the accident and request emergency services if immediate medical attention is needed. The responding officer should provide a police report, which is needed for a pedestrian accident claim.
3. COLLECT INFORMATION
Exchange contact numbers and insurance information with all involved parties. Other identifying information that will help when filing a claim is a California Driver's License number and the car's license plate number. Also, collect statements and contact information from witnesses.
4. PRESERVE EVIDENCE
Take photos of the accident scene, involved vehicles, and your own injuries. Document as much of the accident as possible, incorporating road conditions, skid marks, traffic signs, and other descriptive information.
5. SEEK MEDICAL TREATMENT
Do not refuse medical services if a paramedic arrives at the scene of the accident. Otherwise, the insurance company can claim that injuries were not sustained because treatment was not accepted. A pedestrian accident victim must also ensure that a doctor examines their injuries. Medical records help build a claim and ensure a victim's well-being is not compromised.
6. CONSULT WITH AN ORANGE COUNTY PEDESTRIAN ACCIDENT LAWYER
To protect a case and prevent interference with an insurance company, seek legal guidance from an Orange County pedestrian accident attorney. The Law Offices of Daniel Kim provides a free case evaluation with no obligation to enlist our services. We are committed to helping pedestrian accident victims overcome this difficult time and assist in getting them the compensation they deserve.
Contact The Law Offices of Daniel Kim Today
Pedestrians who are injured by negligent drivers often lose out on fair compensation. However, the pedestrian accident lawyers at The Law Offices of Daniel Kim fights to make sure that does not happen.
In addition, our law firm will make sure our clients get the compensation they deserve. Our pedestrian accident attorneys in Orange County, CA will keep you informed throughout your personal injury case. Call The Law Offices of Daniel Kim today to talk with a pedestrian accident lawyer near you and schedule your free consultation.
If you need legal representation in your area, we serve our clients at meeting locations in cities throughout Orange County including Aliso Viejo, Anaheim, Anaheim Hills, Brea, Buena Park, Costa Mesa, Cypress, Dana Point, Fountain Valley, Fullerton, Garden Grove, Huntington Beach, Irvine, La Habra, Laguna Beach, Lake Forest, Mission Viejo, Newport Beach, Orange, San Clemente, San Juan Capistrano, Santa Ana, Tustin, Yorba Linda, and more. Find our expert truck accident lawyer near you to get started on your free consultation.