A Trusted and Experienced Car Accident Lawyer — Anaheim, CA
Were You Injured in a Serious Car Accident in Anaheim?
At The Law Offices of Daniel Kim, we assist injured victims overcome the challenges that are often associated with car accidents. From filing a claim to litigating a case, our legal team provides top-tier support through every step of the legal process. As one of the leading Anaheim car accident lawyers, Daniel Kim maintains a 99% success rate and has recovered over $250 million in verdicts and settlements for his clients.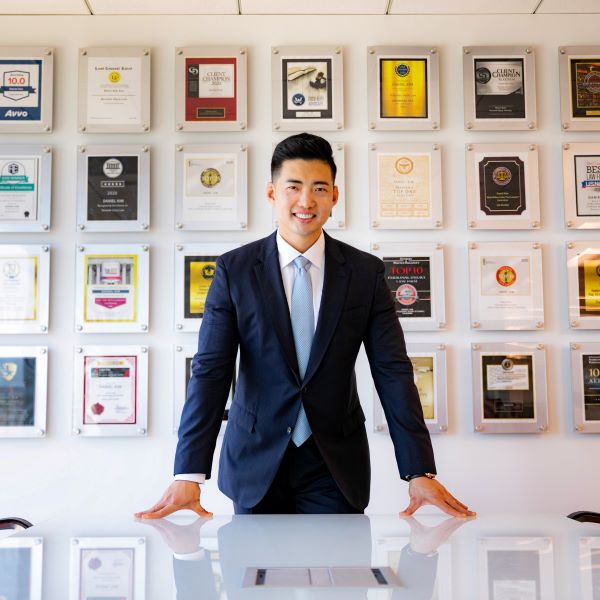 Our law firm specializes in cases involving motor vehicle accidents. With a 99% success rate, our Anaheim personal injury lawyer knows how to maximize compensation for his clients. If you were injured in a crash, schedule a free case evaluation, and we can begin building your winning case.
We are proud to serve the nearby neighborhoods and communities of Anaheim including Anaheim Hills, Downtown Anaheim, Southwest Anaheim, Northwest Anaheim, Northeast Anaheim, Southeast Anaheim, The Colony, West Anaheim, Platinum Triangle, Anaheim Resort, The Canyon and surrounding cities including Brea, Buena Park, Fullerton, Fountain Valley, Garden Grove, Orange, Placentia, Santa Ana, Stanton, Tustin, Villa Park, Yorba Linda, and more.
Other Practice Areas We Specialize In
---
Why Hire Daniel Kim as Your Anaheim Car Accident Lawyer?
Backed by a knowledgeable team with ample resources, The Law Offices of Daniel Kim assists clients by reducing the stress and confusion that is often associated with car crashes. This is vital, as California's legal system can be complex and difficult to navigate, especially when suffering from serious injury.
Car accident lawyer, Daniel Kim, gets clients the compensation they deserve, as his proven strategies have garnered a 99% success rate. As one of the leading Anaheim law firms, our efforts have earned us notable recognition from The National Academy of Personal Injury Attorneys, The National Trial Lawyers, the Multi-Million Dollar Advocates Forum, and other respected legal organizations nationwide.
We also operate on a contingency fee basis, so we only bill once a case is settled. Contact our offices to discover how we can help you with your claim. We are available to assist 24 hours a day, seven days a week.
No Win, No Fees. Guaranteed.
Our contingency fee arrangement allows clients to receive expert legal representation with zero upfront costs. Additionally, we do not bill for our services if we cannot produce a case win. To learn more, please schedule a free case evaluation with our Anaheim office today.
---
Do I Need a Lawyer for a Car Accident?
To file a claim, legal representation is not mandatory, but in order to file a successful claim, legal representation is a must.
Regardless of fault, insurance companies will attempt to avoid fairly compensating for damages. However, working with experienced car accident lawyers keeps victims' rights protected. The Law Offices of Daniel Kim knows how insurance companies operate, and we counter their tactics with aggressive representation, resulting in major case wins.
We understand that confiding trust in a lawyer can be daunting. When clients choose to work with us, we want them to feel confident in their decision about who is representing them. This is why we offer a free consultation to all prospective clients, allowing them to get a feel for the firm and explore all of their legal options.
How We Help Our Clients
Recovering from an accident is a traumatic experience. Working with car accident lawyers expedites the claims process and increases the chances of recovering maximum compensation, allowing victims to heal and focus on their futures. The major benefits our Anaheim law offices provide include:
Free case evaluation detailing losses that can be recovered and when we expect the case to settle
Access to the top medical care so resulting injuries are properly treated, improving the rate of physical recovery
Collection of difficult-to-obtain evidence, such as police reports, EDR (event data recorder), video surveillance, and witness testimonies, all of which prove fault
Collaboration with expert witnesses, such as medical experts, accident reconstructionists, and financial analysts who will confirm the extent of damages
Aggressive negotiations with the insurance company, preventing insufficient settlement offers from being accepted
Trial experience if the case needs to go to court in order to recover full and fair compensation
White glove service with 24/7 support to address any questions clients may have
---
What Is My Car Accident Claim Worth?
The objective of taking legal action is to offer affected victims the opportunity to return to a state of wholeness, as they were before the accident took place. Therefore, it is important to understand the true value of a case. The economic damages and non-economic damages taken into account include:
Lost wages – income that could not be earned while recovering from injuries
Loss of earning potential – physical disabilities preventing the ability to return to work
Property damage – costs to replace or repair a vehicle and other personal property
Current medical bills – any medical care and equipment needed to treat injuries
Future medical expenses – subsequent doctors visits, physical therapy, pain management, and other anticipated treatment
Wrongful death – the loss of a family member is a traumatic event and reimbursement for out-of-pocket expenses, funeral bills, or burial expenses can be compensated
Pain and suffering – physical pain or mental suffering, such as post-traumatic stress disorder (PTSD)
---
What Causes Most Car Accidents?
Auto accidents throughout the city commonly occur due to freeway congestion on the I-5 (Interstate 5) and SR-57 (State Route 57), as they neighbor heavily impacted attractions, such as Downtown Disney, Angels Stadium, and The Honda Center. The city currently averages approximately 5,000 crashes per year. Generally, accidents occur for these common reasons:
Bad weather
Defective car parts (brakes, mirrors, etc.)
Distracted driving
Drunk driving
Drug-impaired driving
Inexperienced drivers
Poor road conditions
Road rage
Speeding
Texting while driving
---
Who Is Liable in a Car Accident?
In California, if someone else's negligence, like distracted driving, causes an accident, that party is liable for damages. However, when it comes to car accidents, it's not uncommon for more than one party to be at fault.
California's comparative negligence laws allow claimants who were partially at fault in causing an accident to recover damages, but their compensation will be reduced based on their degree of fault. For example, if the claimant is found 20% responsible for causing a crash, and the claim is worth $20,000, the claimant will receive 80% of the award, which is $16,000.
Proving the Other Driver's Negligence
In order to hold a party accountable in a car accident case, "negligence" must be proven. A party can be found negligent after presenting these four factors:
A duty of care was owed
The duty of care was breached
The breach caused the accident
The accident resulted in damages to the victim
This process requires an in-depth investigation of the crash and a collection of supporting evidence. In order to recover a fair settlement for an accident that you are partially responsible for, we strongly recommend consulting with an experienced Anaheim law firm. The Law Offices of Daniel Kim offers a free case evaluation to all prospective clients.
---
What to Do in a Car Accident
Whether it's at the accident scene from paramedics or from a physician after leaving the crash site, always seek medical attention.
Many serious injuries are not always apparent or clearly detectable, and only medical professionals can diagnose them. Therefore, get medical treatment to prevent severe injuries from becoming debilitating or even fatal.
In order to preserve a claim, it's also important to report the accident and collect a police report. Additional evidence that benefits a case includes photos and videos of the crash site and witness statements. Also, obtain the other driver's insurance details, contact information, and license plate number.
---
What to Do in a Hit-and-Run Accident
Following a hit-and-run accident, immediately take notes and photos of the other driver's appearance and car details (color, make, model, distinguishing characteristics, etc.). Then, report the accident to the police. The more information that is provided will help investigators locate the hit-and-run driver.
If the other driver is identified, a car accident claim can be filed against that party. However, if the driver is not located, alternative legal options can be taken. For instance, if uninsured motorist coverage (UM) is part of a victim's auto insurance policy, it can be utilized in a hit-and-run accident to cover property damage, medical expenses, and more. An attorney will explore all avenues to prevent victims from paying for out-of-pocket expenses.
---
What Are the Types of Car Accident Injuries?
Treating car accident injuries can become very costly, which is why settlement offers should cover every aspect of current and future medical treatment. Our law firm has been successful in recovering compensation for our clients who have suffered from the following types of severe injuries:
Amputation
Back injury and paralysis
Broken bones and fractures
Concussion
Dental damage
Disfigurement
Head injuries/Traumatic Brain Injury (TBI)
Internal bleeding
Pierced organs
Scarring and lacerations
Spinal cord damage
Whiplash and neck injuries
Wrongful death
---
Frequently Asked Questions
Do I Need a Police Report to File a Claim?
California law requires all car accidents that result in injury or death to be reported within 24 hours of the incident taking place. Additionally, if the crash exceeds $1,000 in damages, the accident must also be reported to the Department of Motor Vehicles (DMV). Police reports are also valuable pieces of evidence and will strengthen the validity of a plaintiff's claim.
What if the Other Driver Doesn't Have Insurance?
Uninsured motorist coverage (UM) or underinsured motorist coverage (UIM) can be applied if the other driver does not possess car insurance. These plans help pay for out-of-pocket expenses caused by the crash. However, this coverage must be part of the insurance policy at the time of the crash. If UM or UIM is not part of a policy, a lawsuit can be filed against the at-fault driver.
Should I Speak to the Insurance Companies After a Car Accident?
At a very limited capacity should contact be made with insurance companies. If the other party's insurance company initiates contact, it's best to direct them to your Anaheim car accident lawyer. Any information shared with insurance adjusters can compromise a claim. Ideally, it's best to consult with car accident attorneys before speaking with insurers.
What if the Insurance Company Makes a Settlement Offer?
Do not sign any documents or verbally agree to any offers regarding a settlement. Shortly following a crash, insurance companies contact victims so they can make a deal for a quick payout. However, initial offers do not account for the full extent of damages, such as pain and suffering, future medical bills, or diminished earning capacity. No settlements should be made until the accident has been investigated and fully evaluated by trusted car accident attorneys.
How Long Does a Car Accident Settlement Take?
Because every accident is unique, the length of time an injury case will take to settle will vary. The more complex, due to multiple parties being involved or catastrophic injuries being sustained, the longer it will take to settle. The average turnaround time is 10 months according to Martindale-Nolo. However, the timeline can exceed a year or longer. The most accurate way to quantify a timeline is to schedule a case evaluation with an experienced car accident lawyer.
---
Anaheim Car Accident Statistics
According to the Anaheim Police Department, there were approximately 4,500 car accidents in Anaheim in 2019. Of those accidents, over 1,000 resulted in injury, and 28 resulted in fatalities.
Reckless driving, such as improper braking/stopping, failure to stop at stop signs, and right-of-way errors increased the risk of crashing by the hundreds. Nationally, alcohol-impaired driving has decreased, but there have still been 1,066 fatal car accidents as a result of drunk driving.
Dangerous Roads and Intersections in About Anaheim, CA
Anaheim is home to popular attractions, such as the Disneyland Resort and the Anaheim Packing District. The city is also in close proximity to Medieval Times and Knott's Berry Farm in Buena Park, as well as the neighboring Orange County beaches of Newport Beach, Huntington Beach, and Laguna Beach.
With so much attention from locals and tourists, the city is prone to congested roads and heavy traffic. In 2019, there were 28 crashes at the intersection of Orangewood Ave. and Ball Rd. Other hazardous streets include:
Harbor Blvd.
Euclid St.
Harbor Blvd.
Lincoln Ave.
La Palma Ave.
Katella Ave.
---
Directions to Our Anaheim Office

Car Accident Lawyer Daniel Kim — Anaheim, CA
Address: 2115 W Crescent Ave #236, Anaheim, CA 92801
Phone: (714) 984-0020

START YOUR FREE CONSULTATION