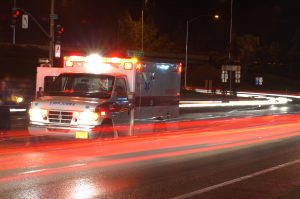 DUI Crash on Cassel Fall River Road Sends Thomas Flores to Hospital, Oscar Montoya Detained

FALL RIVER MILLS, CA (August 7, 2021) – Thomas Hamilton Flores and two others sustained serious injuries in a DUI accident on Cassel Fall River Road near Fall River Mills on July 30.

The accident happened around 7:30 p.m. just before Nez Perce and Chaffey courts. According to the California Highway Patrol, a gray Nissan Sentra was traveling in the area at a high rate of speed when it crashed into a large oak tree. Paramedics found three people with serious injuries and trapped inside the wrecked vehicle.

Firefighters used the Jaws of Life to extricate the patients from the vehicle. The three victims, all Fall River Mills residents, were then transported to Mercy Medical Center in Redding for proper treatment.

While working on the scene, officials found two handguns inside the car. The driver, 23-year-old Oscar Montoya, was determined to be under the influence of alcohol. He was arrested for felony DUI but will not be booked into jail at this time due to his ongoing medical treatment.

An investigation is ongoing.

Never drive while under the influence of alcohol or drugs. Your poor choices may result in forever changing your life and the lives of others who were doing absolutely nothing wrong. Always chose to be a better driver.
---
It is important to have strong legal representation on your side when injured in a DUI crash. Reach out to our award-winning car accident lawyers at The Law Offices of Daniel Kim today. Our legal team understands what you are going through and will help you seek justice and compensation. Call us at (800) 895-7199 for a free and confidential case evaluation. You can reach us 24 hours a day and 7 days a week if you have questions. If you need a copy of the police report, our team can also help you get one. Your case is our priority, so you can focus on things that matter.