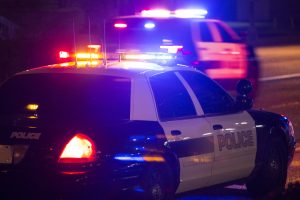 Connor McCrath Arrested, Passenger Injured after DUI Police Pursuit Crash on Capital Mall and 9th Street

SACRAMENTO, CA (March 29, 2021) — Officers arrested 33-year-old Connor McCrath after a police chase accident on Tuesday, March 16.

According to California Highway Patrol Officer Miguel Camarena, just before 2:00 a.m. McCrath drove a maroon Ford Mustang that sped through 80 Freeway in Vacaville. When an officer tried to pull over the vehicle, he refused to stop.

The incident turned to a high-speed pursuit that went east down 80 Freeway. According to CHP, during the chase the Mustang reached speeds of up to 125 mph.

Officer Camarena said McCrath led officers through Solano, Woodland. Then it went into Sacramento, where he exited on Jefferson Boulevard.

Once the Mustang was in the area near Capitol Mall and 9th Street, it collided in front of the Capitol building. The vehicle took out traffic signs as it overturned.

McCrath and his passenger, only identified as a woman in her early 20s, suffered injuries. Medics rushed both to the hospital.

The CHP said that they arrested McCrath on suspicion of felony evasion and driving under the influence.

Do not drive when you are intoxicated and stop when an officer pulls you over while driving. By following the law, you can help prevent accidents.
---
If you or a loved one suffered injuries in a DUI accident due to the negligence of others, you can reach out to the Law Offices of Daniel Kim today.  We fight for car injury accident victims so that they will receive the rightful compensation for their pain and suffering. We are a top-rated personal injury law firm with a 99% success rate. You pay nothing unless we win your case. Contact us today at (800) 895-7199. Click here to request a copy of the police report from your accident.