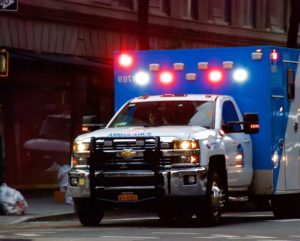 On-Duty LAFD Official Involved in Multi-Vehicle Crash on West Roscoe Boulevard in Sun Valley

SUN VALLEY, CA (June 29, 2022) – An LAFD EMS captain suffered injuries in a multi-vehicle crash in the 10300 block of West Roscoe Boulevard on June 27.

According to the California Highway Patrol, the accident happened at approximately 12:50 PM.

Based on a report, the captain of the Los Angeles Fire Department Emergency Medical Services was responding to an emergency call at the time of the crash. Due to unknown reasons, the victim's department SUV collided with two other cars. Police said the vehicle had lights and siren activated when the crash occurred.

Fortunately, the victim only suffered a non-life-threatening injury. Paramedics transported him to a hospital for treatment.

At this point, an investigation into the case is ongoing. Also, an investigation is still ongoing.

When behind the wheel, keep your eyes on the road and observe the movement of vehicles around you. Practice defensive driving when approaching intersections and do not let external factors distract you. Always wear your seatbelt and mind your speed.
---
If you or a family member is a victim of a multi-vehicle crash, contact the Law Offices of Daniel Kim to handle your case. Each of our clients receives personal legal advice tailored to his or her specific case and injuries. Our team will personally work with police reports, insurance claims, medical bills, doctor's appointments, and much more. Our success rate is over 99% so you can be assured that you are in good hands. Call us today at (800) 895-7199 for a free consultation.