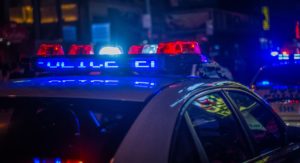 Police Pursuit Ends in Crash at South Hope and 9th Streets in DTLA

DOWNTOWN LOS ANGELES, CA (March 31, 2023) – Four people were injured in a pursuit crash at South Hope Street and 9th Street in downtown Los Angeles on Wednesday evening.

The pursuit began around 9:12 p.m. on March 29. According to the Los Angeles Police Department, officers tried to stop a suspected reckless driver near the intersection of Wilshire Boulevard and Witmer Street.

After the brief pursuit, the suspect, who was driving a 2007 Honda sedan, later crashed into at least one vehicle near the intersection of 9th Street and Hope Street.

Los Angeles Fire Department crews responded and transported four people to local hospitals in unknown conditions.

The suspect was arrested at the scene, police said.

Authorities also said that animal services were called to assist with a small dog that was in one of the wrecked vehicles. The condition of the dog was also unknown.

An investigation is underway.

During a traffic stop, immediately pull over. Do not attempt to flee the scene. It can only lead to dangerous accidents. Always choose to be a responsible driver.
---
The Law Offices of Daniel Kim remain a superior option for car accident victims seeking compensation. We believe every client should receive personal legal advice tailored to his or her specific case. If you have been involved in a car accident and need specialized legal care, then let us help you. Our attorneys will handle everything while you rest and recover. To schedule a free case consultation with Daniel, call (800) 895-7199. You also can request a copy of the police report for your reference.