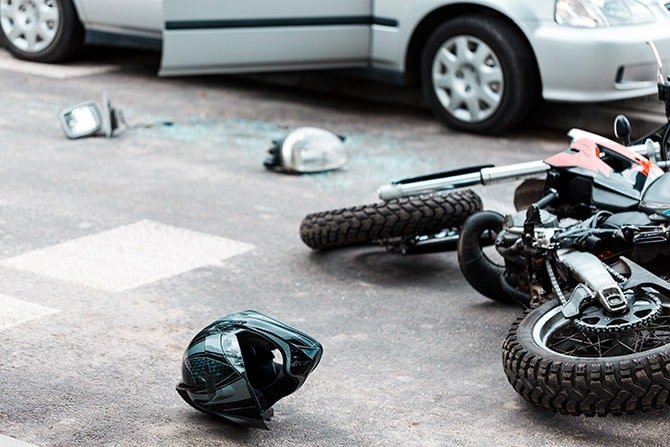 Riding a motorcycle is dangerous no matter how cautious you are, or how experienced you might be.
Although you can be on the lookout for other dangerous drivers, it's impossible to 100% avoid a motorcycle crash.
Motorcycle accidents can happen when a tourist is in Laguna Beach in a rental car and hits you, or maybe a moving truck runs a red light, or even a kid on an electric scooter cuts in front of you while you are doing 50 mph.
The point is they are called "accidents" or a reason, and all you can do is your best to avoid being involved in one.
If you or a family member has been injured in a motorcycle crash here in Laguna Beach, then we urge you to call Daniel Kim today for help.
Why Contact Law Office of Daniel Kim
Daniel Kim is an experienced motorcycle accident lawyer in Orange County who was helped hundreds of motorcycle accident victims.
After a motorcycle accident the medical bills start piling up, the insurance companies start to harass you and your days are full of doctor appointments and physical therapy.
The biggest mistake you can make is to fight the insurance companies alone and think they have your best interest at stake.
You have to remember that the insurance companies are in business to make a profit, and every injury claim they have to pay out on cuts into their pretty little profits.
Daniel and his legal team will fight for you no matter how long your personal injury settlement takes to finish.
More Facts About Daniel Kim
You can contact us 24 hours a day, 7 days a week
We have a 99% client satisfaction rating
Daniel will help you get proper medical treatment
We use top investigators to prove your case
Our law firm has an A+ rating at the BBB
Common Causes For Motorcycle Accidents In Laguna Beach
The state of California is known throughout the world as being one of the greatest places for riding a motorcycle.
There are miles and miles of scenic roads that wind along the beaches, hills and mountain areas which make it so beautiful when traveling on a motor-bike.
The roads and freeways of Laguna Beach are popular among motorcycle enthusiasts and the potential is always there for an accident.
When a motorcyclist gets in a crash with another vehicle the risk for injury is high and often life-threatening.
There are many common variables that can be responsible for a motorcycle wreck.
Motorcyclist must always be extra cautious and aware of all the different types of accidents in order to try and avoid these potentially dangerous and life-threatening situations.
Common reasons for a motorcycle accident in Laguna Beach:
Negligence – This is one of the leading causes for accidents, this includes distracted driving, texting, not paying attention and many other mistakes. Inexperienced drivers can often take the safety of the road for granted leading to possible danger.
DUI – Never drink and drive or drive under the influence of anything. Everyone knows this but still too often people ignore the advice. Always be on the lookout and never put yourself or anyone else on the road in harms way.
Speeding – Remember, the faster the speed the more devastating the injuries will be in all types of traffic accidents especially, when it comes to motorcycles. The faster the speed the harder the impact will be when the rider hits another vehicle or the road. Ouch.
Lane splitting – This is when a motorcycle rider is driving in between two cars in order to get through traffic. It is hard for cars to see and predict what the motorcyclist is doing and can ultimately lead to serious injury if an accident occurs.
Stopping abruptly – This can happen when a car in front of you slams on their brakes. This is also incredibly dangerous and can cause a major pileup. Driving is often unpredictable and cars that stop too fast can cause tremendous damage.
Dangerous roads – Laguna Hills has hills and winding roads which can have some blind curves and create accidents. Always drive at a safe pace to make it easier to avoid potholes, cracks, puddles and oil slicks.
Left turn accidents – This has been said to be one of the deadliest types of motorcycle accidents and involves another motorist causing the collision by violating the rider's right-of-way at an intersection. It often happens when the vehicle turns left in front of the oncoming motorcycle.
Common Injuries From a Motorcycle Accident In Laguna Beach
Riding a motorcycle is a high-risk activity, extremely dangerous and even if you take all the proper safety precautions there are still many types of injuries that you need to worry about.
When riding a motorcycle there are certain safety tips that can help make your ride a lot safer like; inspecting your bike, planning your trip, wearing a helmet of course and staying focused on the road ahead.
If you do get hit by a car, these injuries below are probably what you'll be dealing with –
Head injuries – These types of injuries can happen in many ways on a motorcycle. It can also be severe and cause things like Traumatic Brain Injury which can result in coma, seizures, memory loss, headaches, loss of vision and many other problems. The helmet is the best way to minimize head injuries.
Road rash – When a motorcyclist gets in a wreck and slides across the pavement it can rip the skin and cause lacerations leaving the skin raw. This can be minor and heal in a week or two or have more lasting effects and leave the skin permanently scarred where plastic surgery may be needed.
Broken bones – All parts of the body are at risk of bone breaks and fractures when in a motorcycle accident. This will depend on the bones that are impacted. In bad breaks bones can be crushed and compound type fractures can occur. The legs and arms are the highest risk but the ribs, back, feet and hands are also common areas.
Muscle damage – When cruising the freeways muscles and tendons are being used and often after riding it is not uncommon to be sore. Now imagine driving more aggressive or maybe even off road for a bit. Muscles will be much more effected and may take days for them to heal. In an accident, muscles can tear and tendons may rip causing extensive pain and suffering.
When we think of motorcycle accidents, often fatalities and serious injuries are the first things we think about.
Thankfully, it is more common to have less serious injuries.
So, if you find yourself injured in any of these types of accidents, it is always best to seek the help of a knowledgeable Laguna Beach motorcycle accident attorney.
Call the Law Offices of Daniel Kim!
Laguna Beach Motorcycle Accident Stats
Laguna Beach saw the second-highest rate for motorcycle accidents in all of Orange County during 2017, making it one of the most dangerous communities in the county (and all of Southern California, for that matter) over that stretch of time.
5.2 accidents per 1000 people living in Laguna Beach were recorded during that year. This came out to a total of 121 motorcycle accidents in Laguna Beach.
How Many Injuries ; Deaths From Motorcycle Accidents In Laguna Beach 2017?
The injury rate for motorcycle accidents in the Laguna Beach community during 2017 was just below 68%.
This is considerably lower than the 94+ percent statewide average throughout California, and certainly quite a bit lower than the 90% average in other communities throughout Orange County during that same year.
What Percentage Of These Accident Involved Drugs Or Alcohol?
Motorcyclists were found to have been just as guilty as traditional automobile drivers when it came to driving while under the influence of alcohol and drug issues.
Arrest rates are up 30% over the last half decade in the state of California for DUI charges, and 11% of all motorcycle accidents that involve fatalities (as well as 11% of all other automobile accidents involving fatalities) are linked to operators consuming drugs.
How Many People Own A Motorcycle In California?
California reports just over 800,000 motorcycles registered to California motorcyclists as of 2018.
This is far more motorcycles registered in a single state than anywhere else in the United States, with the second highest amount of motorcycles registered coming in more than 100,000 motorcycles less.
Worst Intersections In Laguna Beach For Motorcycle Accidents
Some of the worst intersections in the entirety of Laguna Beach when it comes to motorcycle accidents.
Pearl Street and Catalina Street
Diamond Street and the S. Coast Hwy.
Catalina Street and Graceland Drive
You'll want to stay particularly aware if you're going to be driving anywhere near these stretches of road.
What Is The Penalty For Not Wearing A Helmet In California?
California Highway Patrol has the discretion to assess you with a variety of different penalties if you're found to have not been wearing a helmet while operating or riding on a motorcycle in the state of California.
Not wearing a helmet is 100% against the law (not to mention tremendously dangerous), penalties range up to a $250 fine for your first offense to 12 months of probation.