Taking an Uber, or driving for Uber as a job, can be dangerous no matter what city you are in.
Yorba Linda is a safe and quiet city, but it does still have it's fair share of auto accidents, etc.
If you have been injured in an Uber or Uber Eats crash then contact us today, don't sit around waiting for the insurance companies to help you because they won't.
Hiring an experienced Uber accident lawyer like Daniel Kim will greatly help your lawsuit.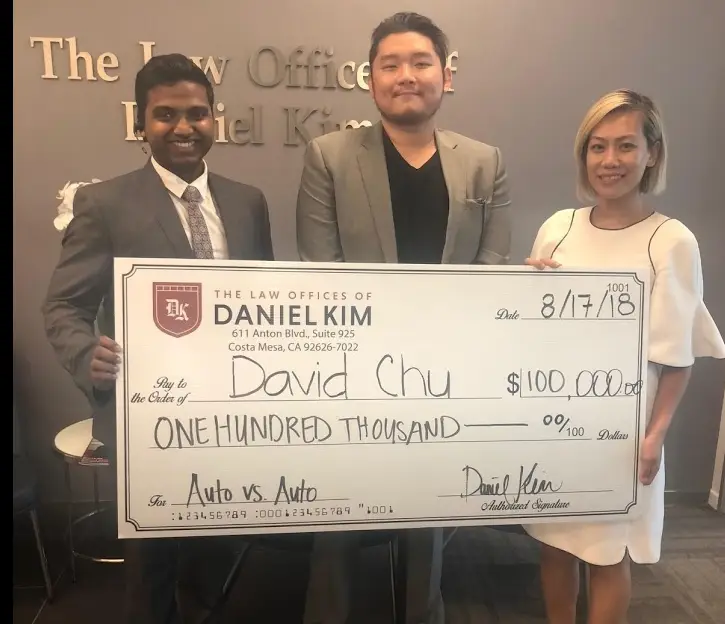 Why Contact Law Offices of Daniel Kim
When you get injured in an Uber car accident, you need to understand that the insurance companies are going to put your through a lot of drama, hoping that you will just Go Away.
Once you file an injury claim, the opposing insurance company will start their fight to prove you were at fault, or at least place you partially at fault.
Daniel Kim and his legal team have years of experience helping car accident victims.
We are here to help, and we take our job very serious.
When somebody is seriously injured, many times it will require the injury victim to miss hours or days from work, and when this happens you need to make sure that the insurance company also pays you for your lost wages.
Facts About Daniel Kim
99% client rating satisfaction
Over 1000 reviews on Yelp and Google
We help you get proper medical treatment
You can contact us 24 hours a day, 7 days a week
We have won hundreds of $$ millions for our clients
Common Causes For Uber Accidents In Yorba Linda
Uber has become an incredibly popular way of transportation for so many across the country and the number of riders and drivers continues to rise.
As of 2019 there were over 3.9 million Uber drivers on the road in over 700 US cities. With all these rides an Uber accident is also on the increase as well.
An Uber or Lyft rideshare accident not only effects the driver's potential for damage and injury but also the passengers riding in the vehicle.
There are complications that often come along with an Uber accident that may be different from a regular car accident.
This is why it is important to get a lawyer that understands these types of crashes.
You will need a Yorba Linda Uber accident lawyer like Daniel Kim to help, call us today.
This is a list of what causes many Uber crashes in Yorba Linda –
Distracted drivers (An Uber driver is faced with many distractions like the phone, Uber app, locating passengers and searching for pick up and drop off locations. This increases the risk of an accident.)
Vehicle maintenance (Failing to properly maintain the vehicle is a common cause of Uber accidents. Bad brakes, lights and tires can all lead to dangerous crashes.)
Driver fatigue (Driving tired is dangerous for everyone on the road. Uber drivers often drive for hours and may become drowsy from overwork.)
Speeding (Often Uber drivers may be driving fast to get to the passenger or to the drop off point. Driving at excessive speeds is always dangerous and high-speed impact can be damaging and even fatal.)
Reckless driving (This comes in many different ways and can cause a serious accident. Running red lights, stop signs or unsafe lane changes are dangerous.)
Driving under the influence (Drunk driving or under the influence of drugs continues to be a major problem on the roads of Orange County.)
Common Injuries From an Uber Accident
An Uber passenger always has the potential risk whenever they get in a vehicle.
Car accidents can result in serious injuries and are some of the deadliest of all crashes.
These injuries can also have long term effects and disrupt a person's life.
They may have to miss work in some instances, which can be financially burdensome to the person and their families.
Automobiles are built out of steel and glass and weigh thousands of pounds and when a crash occurs the results can be horrific.
If you are in an Uber accident don't wait around after to see how you feel, your best bet is to seek medical treatment to ensure your well-being.
Of course, the severity of your injuries will play a major role in your settlement so call our offices today for a Free consultation.
Below is a list of injuries from Uber accidents in Yorba Linda:
Broken bones – Broken legs, arms, ribs etc. are all common injuries from an impact type of Uber accident. Depending on where the impact occurs the injury will be determined. When a passenger is in the back seat they often bounce around and may hit the window, seat etc. If in the front they may hit the windshield, dash board etc. The drivers are always at risk of hitting the steering wheel, windshield or airbag.
Head and face – This can be very dangerous to a victim of an accident. Traumatic Brain Injury, concussions and skull fractures can occur. In most serious cases long term brain issues and brain damage can be life-threatening and fatal. Lacerations, cuts and bruises can also cause blood loss and be damaging and result in pain and suffering.
Back and neck Any time a spinal or neck injury occurs it is a dangerous situation. Whiplash, fractures and herniated discs can be debilitating and paralysis can result if serious. Surgery and long-term care can also be a result of these types of accidents.  
Burns -When a car crash at a high rate of speed occurs, the potential for a fire increase. Gas and oil are highly flammable and combustible. If this happens burn injuries can occur. They can be first degree, second degree and most severe third-degree burns.
Amputation Loss of limbs can result in serious accidents. Often in crushing accidents and high impact crashes loss of limbs may occur. If nerves and blood vessels are damaged, they can make reattachment impossible.
What To Do After an Uber Accident
If you ever find yourself in an Uber accident there are certain steps you may want to take in order to help make sure everyone is safe, to follow the law and to protect your legal rights.
This is just a short list of what to do immediately after being involved with an Uber car accident –
Think safety first (If possible, move cars to the side of road, turn off the vehicle, put hazards on and set up warning cones etc.)
Seek help (Check for injuries and call 911.)
Information gathering (Important to get as much info as possible. Names, numbers, licenses, insurance, location, officer name and badge number etc.
Take photos (This is a major part of the accidents evidence. Pictures of all cars involved and surroundings of the scene.).
Medical attention (Make sure you get checked out by a Dr. Don't ignore any minor pain. Remember, often the injury may not be felt until days later.)
Contact Daniel Kim Law Offices for Free consultation.
Yorba Linda Uber Accidents
As a hustling and bustling decent sized city in Orange County, California there's a lot of Uber activity happening within Yorba Linda city limits and throughout the surrounding communities.
Thankfully though, those calling for Uber ridesharing services do not have to worry all that much about getting into a vehicle accident while someone else is behind the wheel.
Car accident rates are pretty low throughout Yorba Linda as is, with fewer than 15 Uber accidents reported during 2017.
Injuries And Deaths From Uber Accidents In Yorba Linda
Injury and fatalities statistics specifically for the Uber accidents reported in Yorba Linda during 2017 are not available.
At the same time, it's hard to imagine that the injury rate in Uber accidents throughout Yorba Linda is any higher than the traditional car accident injury rate of about 80%.
No fatalities resulting from Uber vehicles being involved in automobile accidents were reported in Yorba Linda during 2017.
What % Of These Accident Involved Drugs Or Alcohol?
People throughout California (the rest of the United States) understandably expect that there Uber driver is going to slide behind the wheel completely sober and never under the influence of drugs or alcohol.
Unfortunately, as the state of California is finding out far too often, this isn't always the case.
The rate of individuals arrested for operating motor vehicles while under the influence of alcohol is up 30% over the past half-decade.
Worse, just over 11% of all fatal accidents in California are found to be linked to drivers operating vehicles while under the influence of some type of drug.
How Many Uber Drivers Are There In California, How Many People Have Uber App On Their Phone?
According to the latest available data, there are just over 300,000+ people in the state of California that consider themselves drivers for Uber as well as other ridesharing services.
This number is anticipated to go above 500,000 by the end of 2021 (and it may even happen sooner than that).
Tech industry experts believe that between 40% and 70% of every single smartphone in the United States has Uber installed on that device, and they also expect this number to increase to nearly 90% over the next five years.
How Much Money Did Uber Make In 2017?
Because Uber is a publicly traded company, we have an opportunity to look directly at its financial details. In 2017, the company pulled in revenues just north of $37 billion.
Bad Intersections In Yorba Linda For Car Accidents?
Some of the worst intersections for car accident rates in Yorba Linda include:
Buena Vista Avenue and Highland Avenue
Van Buren Street and Buena Vista Avenue
Alter Vista Street and North Van Buren Street