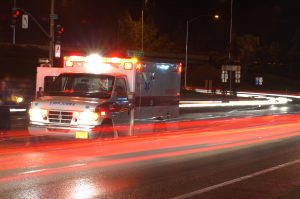 Wrong-Way Accident on 91 Freeway in Riverside Leaves 3 People in Critical Condition

RIVERSIDE, CA (February 8, 2022) – Three people sustained critical injuries in a wrong-way accident on 91 Freeway in Riverside, early Sunday morning.

The accident happened around 1:31 a.m. on February 6 at La Sierra Avenue. According to the Riverside Fire Department, a vehicle was traveling eastbound in the westbound lanes of the freeway when it collided with another vehicle.

As a result, three people suffered critical injuries and two others had minor to moderate injuries. Paramedics took all injured patients to local hospitals.

Both vehicles also sustained major damage and that both required extrication of occupants from their respective vehicles, fire personnel reported.

At this time, the exact cause of the crash and factors involved remain under investigation.

Wrong-way driving can cause a head-on accident. Always stay in your lane when you are on the road. Be cautious around other vehicles to avoid getting involved in a serious accident. Manage your speed and always follow traffic rules. Above all, avoid any kinds of distractions and only drive when you are alert and sober.
---
The Law Offices of Daniel Kim remain a superior option for car accident victims seeking compensation. We believe every client should receive personal legal advice tailored to his or her specific case. If you have been involved in a car accident and need specialized legal care, then let us help you. Our attorneys will handle everything while you rest and recover. To schedule a free case consultation with Daniel, call (800) 895-7199. You also can request a copy of the police report for your reference.