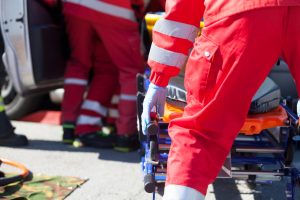 Small Plane Crashes near Santana High School, Driver Steve Krueger and Pilot Sugata Das Killed

SANTEE, CA (October 14, 2021) – Two people killed in a plane crash on October 11 have been identified as the pilot of the plane and the driver of a delivery truck clipped by the plane.

The pilot was identified as Dr. Sugata Das, a cardiologist who worked at the Yuma Regional Medical Center in Yuma, Arizona.

UPS confirmed an employee who died in the plane crash and later identified the driver as Steve Krueger. Krueger had worked for the company for 30 years.

The fatal crash happened around 12:14 p.m. about three blocks from the school near Jeremy Street and Greenscale Street in a residential neighborhood in Santee. According to the Federal Aviation Administration, the twin-engine Cessna 340A went down less than two-tenths of a mile east of Santana High School's football field.

Officials said the plane crashed into two homes and struck the UPS delivery truck and a fire hydrant.

The impact caused both homes to burst into flames. The delivery truck was also burned.

Das and Krueger died at the scene.

At least two people suffered burn injuries and are in serious condition. Authorities believed they were in the homes that were hit.

The FAA and the National Transportation Safety Board will investigate the crash. However, they have not yet determined whether gusty onshore winds were a factor.
---
We extend our heartfelt condolences to the families and friends of Steve Krueger and Sugata Das.
---
If you have lost a loved one in a plane crash, let the top-rated wrongful death lawyers of the Law Offices of Daniel Kim help you get the compensation that you rightfully deserve. Call us at (800) 895-7199 to schedule your free consultation. Our team can also help you request a copy of the police report from your loved one's accident.