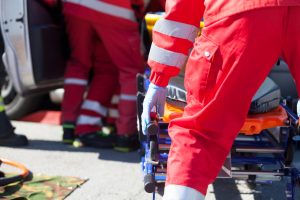 2 Hurt, DUI, Tractor Crash on Old River Road in Sacramento

SACRAMENTO, CA (February 21, 2023) — Two people suffered minor to critical injuries in a DUI car-tractor accident on Old River Road near the 80 Freeway.

According to the California Highway Patrol, the major injury crash happened Monday evening. For DUI reasons, a driver operating a 2008 Chevy sedan crashed into a tractor. As a result, the tractor ended up veering off the road and traveling down an embankment.

Soon after, emergency personnel arrived at the scene and brought the seriously wounded Chevy driver to a hospital in critical condition. The tractor operator suffered only minor injuries, but officials did not say if that patient needed hospital care.

In the investigation, authorities determined that DUI played a factor. Although, if anyone else has seen this accident and can help the CHP with the investigation, please call the department.

Drunk driving often ends badly. If you are impaired, resist taking control of the wheel. Instead, have someone else take you home. Designating a sober friend or calling a Rideshare is the better and safer option than drunk driving.
---
Did you suffer head injuries in a reckless car accident? If so, connect with The Law Offices of Daniel Kim. We are a top-rated firm, focused on winning cases for clients. Leave the investigation to us while you recover from your injuries. Daniel will dive into your case and prove liability to get the reckless party to pay. Explore your options with a seasoned lawyer on your side. If interested in discussing your case with Daniel, call (800) 895-7199 for a free consultation.