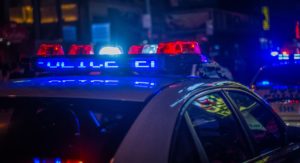 Two Hurt in DUI Crash on Tulare Avenue in Fresno

FRESNO, CA (June 30, 2022) — Two people were injured in a DUI accident on Tulare Avenue at 4th Street on Tuesday.

According to the Fresno Police Department, the DUI multi-vehicle crash happened around 9:00 p.m.

For unclear reasons, an officer made a traffic stop on a vehicle, occupied by two people. However, as the officer exited the car and proceeded to make contact with the pair, a suspected DUI driver crashed into the rear of the police unit.

As a result, the patrol car crashed into the back of the car that the officer pulled over.

Two people inside the pulled-over vehicle suffered unknown injuries and were taken to a hospital for treatment. Meanwhile, officers arrested the 36-year-old female driver in the third car for possible DUI.

At this time, officers plan to investigate this crash from all angles. Therefore, if any witnesses can help the authorities, please call the Fresno Police.

Drivers should always take care when on the road. Look out for pedestrians, drive the posted speed limit and never consume alcohol before handling the wheel. You can avert a car accident by making more responsible decisions.
---
The Law Offices of Daniel Kim computes losses and damages of all kinds. If you need more information about a recent reckless car accident, call (800) 895-7199. Daniel and his team have settled more than $200,000 for clients in thousands of successful lawsuits. Every year, many car accident victims suffer an injury and settle for the consequences. You still have time to file a personal injury claim. Call us for a free case evaluation or to get a police report from the accident.