Dangerous Roads in Orange County, CA
For many people living in Orange County, the daily work commute can easily be over 1-hour each way. This equates to more than 40 hours per month driving to and from work. The OC is also a major tourist attraction, congesting the roads even more. With all that time spent on the road, your chances of being involved in a car accident increase. In addition, roadwork, construction, and potholes make the drive even more hazardous. Here's a compiled list of the most dangerous roads in Orange County, CA and how to avoid them. 
How to Avoid Car Accidents in Orange County
Due to negligent drivers, fellow motorists can only take so many precautions to avoid a car accident. Whether you're driving to work, school, or the beach, you're at risk of being involved in an accident. 
With that being said, there are some key tips that will help you avoid a traffic collision. These include:
Not speeding – follow the speed limit to avoid sudden stops
Staying alert – avoid distractions, like cell phone usage
Keeping up with maintenance – pivotal to avoid mechanical errors
Maintaining safety protocols – wear eyeglasses or sunglasses to avoid vision obstruction
Following laws – do not drive under the influence 
Abiding by traffic laws – use blinkers when changing lanes, do not drive too slow or too fast
Preventing road rage – if a motorist is driving aggressively, do not mirror his/her behavior
Getting enough rest – driving drowsy is equivalent to driving while under the influence and must be avoided
.
Most Dangerous Roads in Orange County
If you live in Orange County, whether driving down PCH or the 405 Freeway, you understand how congested the roads can be. Then, take into account the elements of uninsured motorists, distracted drivers, or inexperienced drivers. Now, more than ever, it's vital to be cautious on the road.
Here are the most hazardous roads in the OC. 
1. Ortega Highway
Ortega Highway is one of the most scenic roads in Southern California, but it's also one of the most dangerous in all of OC. Known as "State Route 74," it stretches from the I-5 in San Juan Capistrano all the way to Riverside across a naturally wild region in South OC.
Ortega Highway is well known for attracting motorcycle riders (especially on the weekends) who want to take their bikes out for a spin. This winding highway is very narrow, which of course, makes it dangerous for motorists and motorcyclists. Because of this, there is an increasing rate of motorcycle fatalities
Alternative Routes: If you want to avoid this road and its looming dangers, take this alternative option. Follow a more northern route, like the 55 to the 91 Freeway. From there, take I-15 or the 215 South.
2. Beach Boulevard
Beach Blvd. runs along State Route 39 from the Huntington Beach coast all the way up through Los Angeles. This is a very busy roadway that connects many key downtown areas of Northern Orange County.
Parts of Beach Blvd. are more congested than others. Traffic begins to decrease near the city of Stanton.
At one point, the intersection of Beach Blvd. and Chapman Avenue had 15 collisions. That equates to more than one accident per month. Another report indicated that Beach Boulevard had over 4,800 accidents.
Many of the intersections along Beach Blvd. in Huntington Beach also have gotten progressively worse. As HB continues to grow, more residents inhabit the city. More residents mean more cars, and of course, more traffic.
Beach Blvd. and Warner Avenue is another hotspot for car accidents. Also, Beach Boulevard and PCH prove to be problematic, due to a large amount of pedestrian traffic. This includes people walking, running, or riding a bike. This is especially common around the SoCal beaches where the weather is nice year-round.
Alternative Routes: Beach Boulevard runs through the heart of HB and into Garden Grove, Westminster, and Buena Park. Other access roads include Golden West Street, Magnolia Street, and Western Ave.
3. Laguna Canyon Road
Part of State Route 133 is known as Laguna Canyon Road, offering access to South Irvine. Although the road is in the middle of Orange County and surrounded by local development, it still offers some of the best scenery and natural wilderness in SoCal.
However, at night, this road is particularly dangerous. Due to bad visibility of the roads, as well as drunk drivers, the area experiences many car crashes.
Alternative Routes: Beach Laguna Canyon Road is not exactly centrally located, there are multiple options to get around Laguna Canyon. To get to and from the beach to inland areas, take Jeffrey Road (University Drive) to Jamboree. This runs through Newport Beach.
4. Interstate 5
The I-5 Freeway runs basically from Canada to Mexico. It's known for being one of the most dangerous roads in all of California. Of course, like every major freeway in California, there are some that are more hazardous than others. 
If you take the I-5 in OC, then beware of where it merges with the 405 Freeway. This stretch is extremely busy during peak hours. In addition, the 5 Freeway and Alicia Parkway are also very dangerous, reporting a high amount of accidents yearly.
Alternative Routes: It's difficult to avoid the 5. The best methods are to take surface streets during peak hours and to utilize GPS applications to go around the traffic. 
5. 405 Freeway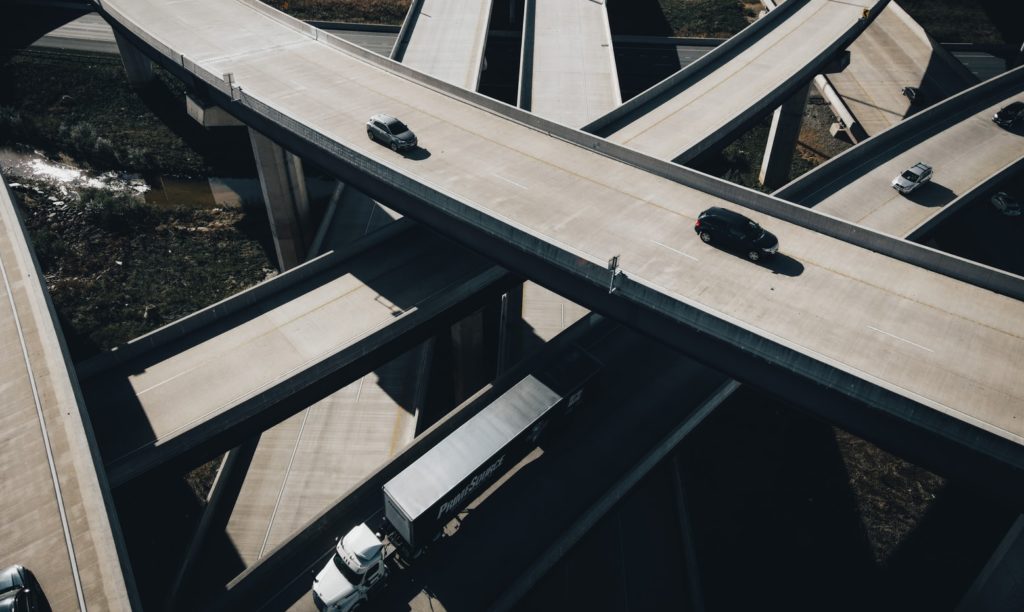 If you live in Orange County, then you know how dangerous the 405 Freeway is. Every day, there is at least one accident on the 405. 
Construction began on the 405 in 1957, and ever since, has helped millions of drivers get around Southern California. In fact, the freeway is consistently undergoing improvements. 
Alternative Routes: Because the 405 covers such a long stretch of Orange County and Los Angeles, there are many alternative routes that can be taken. In some areas, Toll Roads, like the 73 and 133, are utilized to avoid the 405 Freeway.
6. Alicia Parkway
The parkway starts at Crown Valley Parkway in Laguna Niguel and moves along for several miles before it ends at Santa Margarita Parkway in Rancho Santa Margarita.
Statistics show that the most dangerous part of this road is in Mission Viejo. There are 3 intersections on Alicia Parkway that are notorious for accidents. Those are Jeronimo Road, Charlinda Drive, and I-5.
Alternative Routes: Finding another route is difficult because Alicia Parkway sits along a lot of vacant land. Therefore, there are not many roads that run parallel, but one option is to take Los Alisos Boulevard in Mission Viejo.
7. Bristol Street
Located in central Orange County, Bristol Street is known to be very dangerous, especially near the popular shopping mall, South Coast Plaza. 
Bristol Street starts at Jamboree Road in Newport Beach and goes into Santa Ana. It's used daily by a ton of people commuting in Orange County and definitely has a few intersections that are notoriously dangerous.
The intersection at Campus Drive in Newport Beach is really bad. This is partially because it neighbors the 73 Freeway, where drivers exit at high speeds.
Bristol and Warner Avenue are also really congested, as many businesses are located along this stretch of land. Therefore, Bristol Street and West MacArthur Boulevard see a lot of pedestrians walking around the area. 
Alternative Routes: Because Bristol Street is centrally located there are many other options that drivers have. Bear Street, Fairview, and Harbor Boulevard are some major roadways that are easily accessible if you want to avoid Bristol.
Contact The Law Offices of Daniel Kim
If you have been injured in a motor vehicle accident in Southern California, then you definitely want to be proactive in getting justice. If you were not at fault in a car crash and you suffered injuries (major or minor), you are entitled to compensation.
At The Law Offices of Daniel Kim, we offer a free, no-risk case evaluation with our Orange County car accident lawyer. We understand how devastating being involved in a car accident is, especially along the dangerous roads in Orange County. That's why we work diligently to resolve personal injury claims for our clients.
We're available 24 hours a day, 7 days a week. Call us today to learn more about our services and how we can help you. 
CALL NOW