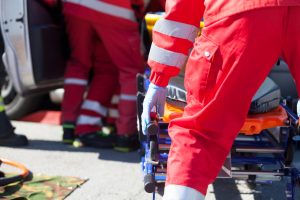 Authorities Identify Pair Killed in Car Submerged in Flooded Underpass in Millbrae

MILLBRAE, CA (December 28, 2021) – Authorities found Susana Glorioso and Rolando Ortigas Glorioso dead inside their submerged car in Millbrae last week.

Firefighters responded around 5:45 a.m. on December 23, to a call for help due to flooding on East Hillcrest Boulevard near Hemlock Avenue, according to San Mateo County Sheriff's Office. When they arrived, they found the victims in the car submerged under a Caltrain overpass.

Witnesses said two people were standing on the roof of their vehicle, just before first responders arrived and rescued them.

After fire officials rescued the first pair of people, they tried to reach another vehicle but were unable to because the water was rising too quickly and it became dangerous for the rescue crew, so they retreated.

After the water receded, investigators were able to confirm that both victims were trapped in the vehicle and died.

Susana was 62 years old and Rolando was 63, according to the San Mateo County Coroner's Office. Both were Millbrae residents.

The two vehicles were next to each other in the underpass where Hillcrest goes beneath the Caltrain tracks.

An investigation into this accident is ongoing.
---
We send our sincere condolences to the loved ones of Susana Glorioso and Rolando Glorioso.
---
With a success rate of over 99%, The Law Offices of Daniel Kim remain a superior option for car accident victims seeking compensation. We believe every client should receive personal legal advice tailored to his or her specific case. If you have been involved in an accident and need specialized legal care, then let us talk further. Our attorneys will handle everything while you rest and recover. To schedule a free case consultation with Daniel, call (800) 895-7199. You also can request a copy of the police report for your reference.