In this day and age, pretty everybody has the rideshare apps from Uber and Lyft apps on their phone and use this transportation service regularly.
There are nearly 42 Million Uber users in the US as of March 2018, making it the biggest market in the world, and 75 Million active users worldwide.
San Diego is a major city and one of the most popular locations for Uber and Lyft riders in the country thanks to many tourists, parking difficulties, people commuting to and from work, and the many people getting rides to –
hotels, restaurants, and bars in popular downtown San Diego areas such as The Gaslamp Quarter and Little Italy.
Uber has become a particularly great and cost and time effective way to commute to and from work, school, the airport, and can save you from a $10,000 DUI if you plan on having drinks.
Uber might be the most popular and name recognizable mobile app out there for modern transportations needs, but other on-demand delivery services such as Doordash, Amazon Fresh, UberEats, and Postmates have also gained significant traction especially in the downtown San Diego area in recent years.
With this comes the increased possibility of being involved in an accident with one of their drivers.
If you have been injured in an accident involving an Uber, Lyft or other delivery vehicles in San Diego, contact The Office of Daniel Kim immediately for a Free consultation.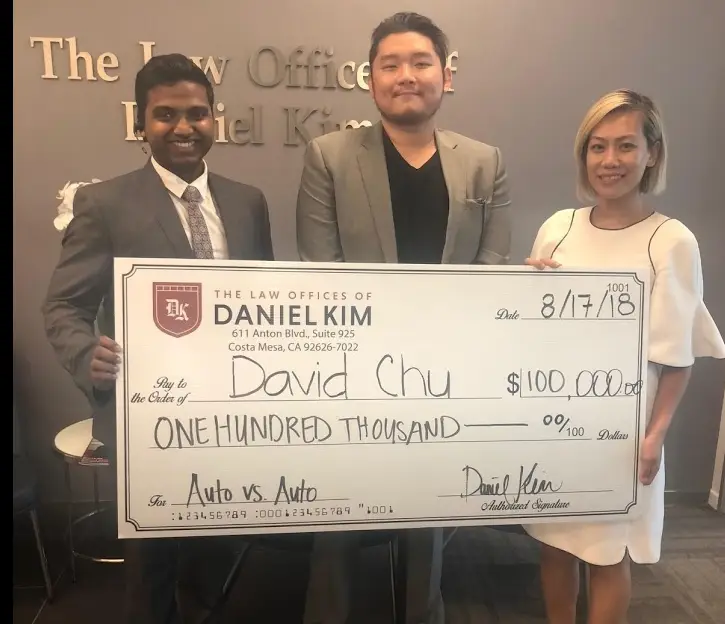 Why Contact The Law Offices of Daniel Kim?
Anytime you are in a vehicle and traveling on public roads with other motor vehicles present there is a risk of being involved in an accident.
In fact, whilst most of us don't think about it, getting in the car as either the driver or passenger and on the road is one of the most dangerous and risky things we will do on any given day.
If you are involved in an accident with an Uber as either a passenger in a rideshare vehicle or in another vehicle involved in the crash, you will need an experienced Uber accident lawyer to represent you.
Not long after getting home and beginning your recovery from the injuries sustained in the Uber accident, you will start having to deal with insurance adjusters, medical billing, auto body repair shops and more, and you will find the process gets stressful quickly.
We can help relieve some of that stress.
The Law Offices of Daniel Kim are experienced Uber accident attorneys who have been representing the residents of San Diego with motor vehicle injuries cases for many years.
Our expert and knowledgeable legal team know every aspect of how the big insurance companies like James River (Uber's insurance company) work and will aggressively negotiate your case.
We have more than 1000 glowing reviews on Yelp, Google, and Facebook from previous clients that wanted to share their positive experiences and results.
Daniel Kim uses state of the art techniques and top investigators to help build and prove your injury case and will not settle for any lowball offers presented by the insurance companies.
You can contact us 24 hours a day, 7 days a week for a free consultation.
Call The Law Offices of Daniel Kim today.
What Should I Do After An Uber Accident?
Quite often after being in a car accident, victims involved can become disorientated, go into shock, or have injuries that cause them to be immobile.
If possible, stay focused and call 911. Request both medical and police assistance at the accident scene. Get the police officers name and badge number so we can obtain a copy of the police report later.
Record details of the accident. Make a note the exact time and place the accident occurred, use your smartphone to take photos and videos of all the damages to the vehicles involved, all visible injuries, road conditions, weather, and anything else you can think of.
Get all the involved drivers license, registration, insurance, and contact information.
Seek medical treatment immediately. We can't stress enough how important this is for both your health and the strength of your case that you go directly to the ER from the accident scene. Always accept a ride in an ambulance if offered.
Last but not least, call The Law Offices of Daniel Kim for a Free No-Obligation Consultation.
Common Causes For Uber Accidents In San Diego
There are a variety of reasons that an Uber accident or any San Diego motor vehicle crash could occur. Unfortunately, in serious accidents, there are bound to be injuries.
Some of the main causes of Uber accidents in San Diego include:
Speeding – this is the primary reason for all motor vehicle accidents in San Diego.
Distracted drivers – even though Uber has a strict "No Texting While Driving" policy, the nature of the job dictates that Uber drivers are often looking at their app whilst driving. They could be getting information about a pickup, looking at GPS, or accepting their next ride, but no matter what they could be distracted.
Running red lights and stop signs – a driver may dangerously blow through stops and cause a major accident when distracted by looking at their phone or dealing with passengers in their car.
Exhausted drivers – Uber has now set a maximum time limit of 12 consecutive hours that a driver can be online, but drivers can still become overworked and exhausted quite easily, especially at night on the weekends when dealing with loud and intoxicated passengers.
Driving under the influence – DUI arrests of Uber drivers are not commonly reported as they are usually the ones driving intoxicated people home safely, but getting in an accident with another drunk driver while in an Uber or Lyft can happen and becomes more common late at night.
Bad weather – San Diego is famous for its year-round sunshine and amazing weather, but when it does rain the roads get very slippery thanks to months of built-up oil deposits.
Whatever the cause of your San Diego Uber accident, you will need an experienced injury attorney to help get you the compensation you deserve. Contact The Law Office of Daniel Kim today for a Free consultation.
How Many Uber Accidents Happened In San Diego
Uber is incredibly popular in San Diego – just as it is in urban communities and cities throughout the US and the rest of the world for that matter.
At the same time, Uber drivers are just as likely to be involved in motor vehicle accidents on San Diego roads as traditional passenger vehicle drivers and commercial vehicle drivers.
With more than 49,090 accidents being reported during 2017 in San Diego alone the odds are pretty good that a decent amount of those accidents involved Uber vehicles.
How Many Injuries And Fatalities Were Caused By Uber Accidents In San Diego 2017?
It's difficult to get a firm grasp on how many injuries and fatalities were caused directly by accidents involving Uber vehicles in San Diego during 2017 because that data is currently incomplete.
However, more than 20,385 people were injured or killed as a direct result of automobile accidents in San Diego during 2017 and it's likely that some of them were either driving or riding in Uber vehicles at the time of their collision.
What Percentage Of Accidents Involved Alcohol or Drugs?
San Diego continues to push back against individuals that choose to drive after they have consumed drugs or alcohol, but these issues remain a major problem for the city and motorists driving in the community.
18% of all accidents occurring in San Diego during 2017 can be traced back to driving while under the influence of alcohol, and 13% of these accidents can also be linked directly to individuals driving after consuming some type of drug.
How Many Uber Drivers Are There In California – How Many People Have The Uber App On Their Phone?
Uber is very much the dominant ridesharing company in the world today and they are certainly the most dominant ridesharing company in the state of California.
As of right now, there are more than 300,000 people driving for Uber with industry analysts expecting this number to hit 500,000 people by the time 2021 rolls around.
Technology experts also report that one out of every three smart phones in the country has already had Uber downloaded onto it.
How Much Money Did Uber Make In 2017?
Uber had global revenues of just north of $7.5 billion during 2017, facts and figures they were legally compelled to release due to the fact that they are a publicly traded organization.
Bad Intersections In San Diego For Car Accidents?
The same intersections that are dangerous for traditional passenger vehicles are dangerous for those riding in Uber cars also.
Here are some of the intersections that are particularly dangerous for automobile traffic in San Diego:
University Ave. & 44th St.
University Ave. & Fairmount Ave.
Garnet Ave. & Mission Blvd.
Broadway & I St.
Broadway & 3rd Ave.
11th St. & Broadway
North Harbor Dr. & Rosecrans St.