San Diego is a beautiful coastal city in Southern California that is one of the most popular places to live, work and visit on the west coast.
Although San Diego is primarily known for its laid back beach culture, the city certainly sees its fair share of large commercial trucks and big rigs traveling in and around the city, especially on area freeways such as the I-5, I-8, I-15, I-805, and SR-11.
Tractor-trailers and 18 wheelers are most commonly seen on highways, freeways and dedicated truck routes. On residential streets throughout San Diego, garbage trucks, delivery vehicles such as FedEx and UPS, tow trucks, and fire trucks are all very common.
If you or loved one have been injured in any type of commercial trucking accident in San Diego, contact The Law Office of Daniel Kim today for a free consultation.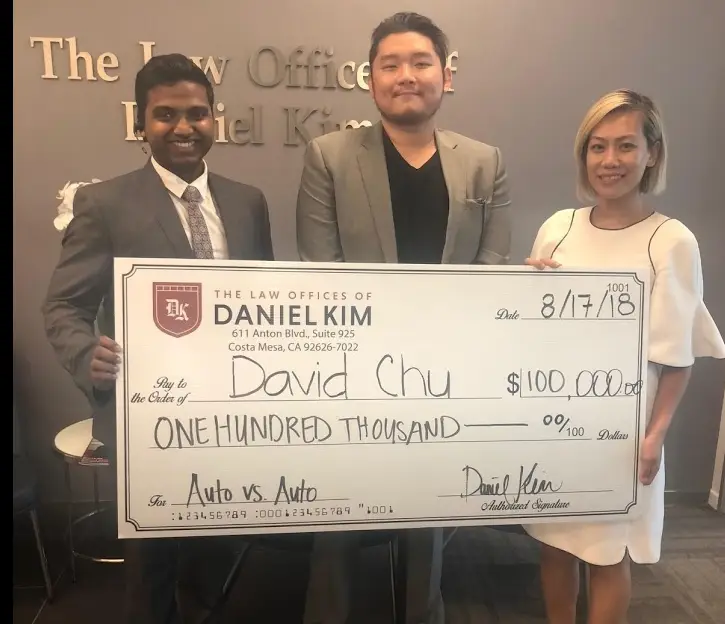 Why Contact The Law Offices Of Daniel Kim
The aftermath of being involved in an accident with a truck is a complex and daunting ordeal and not something you will want to deal with when injured.
The Law Offices of Daniel Kim have been helping the residents of San Diego for many years after being injured in a variety of motor vehicle accidents, including commercial trucking collisions.
Our attorneys only deal with car, truck, and other motor vehicle related accidents and are experts in our field.
Daniel Kim and his legal team believe in treating our clients with the utmost respect and compassion and have well over 1000 positive reviews from satisfied previous clients on Google, Yelp, and Facebook that felt compelled to share their story and results.
Our office is available 7 days a week, 24 hours a day, 365 days a year to help you and answer any concerns you may have.
If you are not sure where to begin, have questions about your case and injuries, or wonder how the legal process works, we encourage you to call The Law Office of Daniel Kim today.
Common Causes Of San Diego Truck Accidents
Anytime you have large commercial trucks mixing with cars, motorcycles, and other motor vehicles in San Diego, the roads get substantially more dangerous.
Even the smallest crash involving a truck can be devastating because of the sheer size and weight of the truck.
A loaded semi-trailer can weigh up to 80,000 pounds when a passenger car that may only weigh around 2,000 pounds.
The most common types of truck accidents in San Diego include:
Speeding – this is the number one cause of all motor vehicle accidents across the US. Trucks driving at high speeds will find it difficult to brake and stop quickly and may cause major injuries or death when they collide with a smaller vehicle.
Tire blowout – this is usually completely unexpected and can cause the truck driver to lose control suddenly and without warning, veering into other lanes or even oncoming traffic.
Jackknife – occasionally when a truck driver loses control, the trailer of the truck skids at a 90-degree angle and will be skidding across the whole road, crushing everything in its path.
Rollover – if a driver loses control of a truck or if it is not loaded correctly, the vehicle can tip over onto its side, crushing everything in its path.
Tired drivers – some vendors and trucking companies put completely unrealistic delivery timetables on their drivers. Even though truck drivers have regulated driving limits and rest periods, some drivers willfully ignore them in order to get their cargo delivered early or at the very least on time.
Driving while intoxicated – driving under the influence or DUI is always dangerous, but that is especially true when it comes to truck drivers. Over-the-counter and prescription medication abuse is more commonly reported after an accident than alcohol or other drugs when it comes to truck drivers.
Bad weather conditions – inclement weather such as rain and fog are rare in San Diego, but when it does occur it can make it very hard for a truck to stop in time to avoid an accident.
Common Trucks On San Diego Roads
San Diego has many dedicated truck routes, parking restrictions, and other regulations in effect for trucks and all larger vehicles regarding height and width that are traveling through the city.
The most common trucks you will see daily in the City of San Diego will usually be delivery trucks such as USPS, UPS, Amazon, and FedEx, fire trucks and emergency vehicles, and garbage and recycling trucks.
Box trucks and other smaller trucks such as tow trucks, and moving or U-Haul trucks are commonly seen throughout San Diego daily and will be the ones you will most likely see in residential areas and close to schools, parks, shopping areas, etc.
Anytime there are trucks around, always be extra vigilant and remember that while you may see them, they may not see you.
Common Injuries From A Truck Accident 
Die to the sheer size and weight difference between a truck and a small car, SUV, or Uber, any injuries sustained in a collision with a commercial truck tend to be a lot more serious than those involving smaller cars or other motor vehicles.
Some of the most common injuries form San Diego truck accidents include:
Broken bones – the most commonly reported after a truck crash are broken and fractured ankles, wrists, ribs, and noses.
Cuts and bruises – bruising across the chest from where the seat belt restrained a driver or passenger are common, and broken glass or other loose objects can cause lacerations.
Head injuries – concussion, traumatic brain injuries (TBI), brain swelling, bleeds, and headaches may occur after a truck accident.
Neck and back injuries – whiplash, neck sprain, damaged discs, and spinal cord injuries are all commonly reported and serious injuries.
Loss of limbs – being trapped in or under a vehicle, or suffering severe and deep lacerations could require surgery and in the worst case, amputation.
Death – if a family member or loved one was killed in a truck accident, we can help you file a wrongful death claim against the negligent truck driver and trucking company.
If you were injured in a San Diego truck accident, call The Law Office of Daniel Kim today for a no-obligation consultation.
How Many Truck Accidents Happened In San Diego In 2017?
Like any other major city in California (or anywhere else in the US, for that matter) there is a considerable amount of commercial truck traffic going into and out of the city on a day to day basis.
With this high-volume of commercial traffic accidents are to be expected, especially when you consider the fact that California roadways are some of the most dangerous in the United States to begin with.
During 2017 there were more than 20,000 accidents reported that involved trucks in the city of San Diego.
How Many Injuries And Fatalities Were Caused By From Truck Accidents In San Diego 2017?
Commercial vehicles are often moving at high rates of speed and are very frequently much larger than traditional passenger vehicles. The rate of injury (and fatalities) is much higher when these types of vehicles are involved in accidents.
During 2017 there were more than 5,000 injuries reported at the scene of (or following) commercial vehicle accidents. 30+ fatalities were also reported as a result of these kinds of accidents during that same year.
What Percentage Of Accidents Involved Alcohol or Drugs?
18% of all accidents in the city of San Diego during 2017 can be linked back to drivers operating their vehicles while under the influence of alcohol. This is 12% lower than the statewide average of DUI charges, however.
13% of all accidents in San Diego during 2017 can be linked back to drivers operating their vehicles after consuming some type of drug. This is 2% higher than the statewide average.
How Many Registered Truck Drivers (Commercial Drivers License) Are In California?
The commercial driver profession is booming in the state of California, with more than 400,000 Californians (including thousands in the city of San Diego) having already passed their commercial driver's license examination and holding a valid CDL.
Worst Intersections In San Diego For Truck Accidents?
Truck accidents occur on pretty much every intersection in San Diego for the most part, but there are a handful of intersections that are considerably more dangerous than others when it comes to this kind of traffic.
These intersections should be avoided as often as possible:
University Ave. & Estrella Ave.
University Ave. & Fairmount Ave.
Garnet Ave. & Mission Blvd.
Broadway & I St.
Rosecrans St. & Midway Dr.
E 18th St. & Highland Ave.
11th St. & Broadway
North Harbor Dr. & Rosecrans St.
What Freeways And Roads Have Most Truck Accidents In San Diego?
Freeway traffic is frequented by commercial trucks more often than not, and these are the freeways and roads you want to avoid to steer clear of potential accidents with commercial vehicles in San Diego.
Interstate 5
Interstate 8
Interstate 15
Freeway 67
University and Marlborough Avenue