San Diego is a beautiful and popular city in Southern California located on the Pacific Ocean just north of the Mexican border and approximately 120 miles south of Los Angeles.
The city is approximately 372 square miles in size and has a population of approximately 1,425,000 people which makes its the eighth-largest city in the United States and the second-largest city in the state of California.
San Diego is world-famous for its fantastic beach culture, sports, great food and nightlife, and is the home of multiple naval and Marine bases and installations, particularly in the San Diego Bay and surrounding area.
What a lot of people don't realize about San Diego is that it also has an enormous entrepreneurial sector, with startups and the telecom and biotech industries some of the largest in the nation.
With so many people living, working, and visiting San Diego, it's no wonder why there are so many cars, trucks, motorcycles, and other motor vehicles on the road every day.
San Diego has many busy roads and freeways including the busiest freeway in California, Intrastate-5, running along the coast and through downtown.
Whenever there is an excessive amount of motor vehicles on the road, the unfortunate reality is that there will be a lot of car accidents and injuries sustained as a result.
If you or a family member has been injured in San Diego car crash, contact The Law Offices of Daniel Kim today for a free consultation.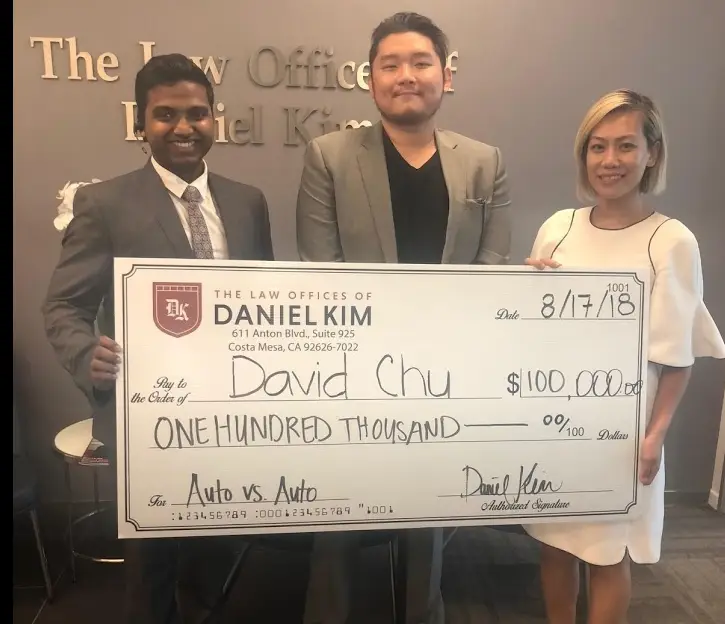 Why Contact The Law Offices Of Daniel Kim?
Anytime you have been injured in a San Diego car accident, you will need expert legal representation in order to receive the maximum amount of compensation you deserve.
Daniel Kim and his experienced legal team are highly rated personal injury attorneys that have been representing the residents of San Diego for years in motor vehicle injury accident claims.
We know exactly how to deal with all the insurance companies big or small, so whether it's Progressive, Allstate, State Farm, or any other insurance provider, we have the experience to negotiate and win injury compensation cases.
The Law Offices of Daniel Kim practice areas only include motor vehicle accidents, so we know exactly how to build injury cases and how the law works.
We have accrued well over 1000 positive reviews on websites such as Facebook, Google, and Yelp, from previous satisfied clients that wanted to share their experience of working with Daniel Kim.
The Law Offices of Daniel Kim is available 7 days a week, 24 hours a day for a free initial consultation and to answer all your questions.
No obligation and no fees until we win your case.
Call us today.
Common Causes For Car Accidents In San Diego
Being involved in any motor vehicle accident or car crash can be a life-altering experience. Most car accidents have unique qualities about them with no two being alike.
Our experienced legal team has been dealing with car accidents and injury victims for years and has seen just about every cause and reason a San Diego car accident could happen.
Some of the most common reasons for a San Diego car crash include:
Speeding – reckless driving and driving too fast is the primary reason behind many car accidents not just in San Diego, but across the United States.
Distracted driving – even though using a handheld device while driving is illegal in California, far too many people are still looking at their phones, texting, emailing, and not paying attention to the road and their surroundings. Car accidents caused by inattentive drivers are on the rise in San Diego and throughout California.
DUI – driving under the influence of alcohol or drugs is still a major problem even in this day and age of rideshare services such as Uber and Lyft making it easy to get around San Diego at a simple click of a phone app. Driving while intoxicated is not only dangerous but is highly illegal and will land you in jail when caught.
Bad weather – although San Diego's famous for its year-round sunshine and fantastic weather, when it does occasionally rain the roads turn to chaos quickly and become slippery and dangerous thanks to the months of built-up oil and gas deposits on the roads.
Poor road conditions – potholes, cracks in the cement, faded lines on the road, and lost trucking cargo can all cause hazardous driving conditions. This is especially evident on the 5 and other freeways in and around San Diego.
Running a red light or stop sign – this is quite often a result of or combination of speeding and distracted driving. Running through a stop sign or red light and into oncoming traffic in an intersection can cause catastrophic injuries to anyone involved.
This is just a sample of some of the common causes of car accidents in the greater San Diego metropolitan area. No matter what the reason for your crash and the injuries you have suffered, The Law Offices of Daniel Kim can help. Call us today.
Common Injuries From A San Diego Car Accident
Injuries sustained from a San Diego car accident can be just as unique as the reason behind the crash.
With a bit of luck, you'll be able to walk away from a minor fender bender without a scratch and not need to call an injury attorney.
But if that's not the case and you are injured in a San Diego car crash, you will need Daniel Kim to fight for your rights against the insurance companies.
The severity of the injuries you could sustain in a San Diego traffic accidents will vary due to factors such as the speed and location the vehicles involved were traveling, the size of the vehicles involved (passenger car, van, motorcycle, commercial truck, etc.), what safety measures were in place (were you wearing a seatbelt?
Did the airbag deploy? Etc.), the number of vehicles involved in the crash, and the weather at the time of the accident.
Some common injuries we see after a San Diego car accident include:
Neck and back injuries – neck sprain and whiplash are very common, as are bulging discs and lumbar issues.
Broken and fractured bones – broken wrists and ankles are the most common, with ribs, noses, and pelvic bones also treated a lot.
Spinal injuries – the most severe spinal cord damage could result in permanent paralysis.
Head injuries – traumatic brain injury or TBI, concussion, brain bleeds, and skull fractures are common, especially in head-on car accidents.
Soft tissue injuries – muscle and tendon damage, torn ligaments, and sprains are all commonly reported.
Cuts and bruises – when wearing a seatbelt in a car accident, bruising across the chest is almost guaranteed. Cuts are also very common, with severe lacerations often requiring surgery. In the most severe cases, amputation could be required.
Death – if a loved one a family member was killed in a San Diego car crash, we may be able to help you pursue a wrongful death case.
How Many Car Accidents Were There In San Diego In 2017?
San Diego city streets are some of the most dangerous in the state of California when it comes to automobile accidents.
In 2017 alone, the city had more than 49,090 accidents reported not only in San Diego proper but in the surrounding metropolitan area as well. This makes the city far more dangerous than the statewide average.
How Many Injuries And Fatalities Were Caused By Car Accidents In San Diego 2017?
According to city officials, there were more than 20,385 injuries and fatalities reported during 2017 that were caused as a direct result of motor vehicle accidents in the city.
This figure represents a 15% increase over 2016, with accident rates increasing almost every year over the last 10 years in San Diego.
What Percentage of Accidents Involved Drugs Or Alcohol?
San Diego city officials also reported that 18% of automobile accidents were caused by drivers that had been consuming alcohol. 13% of accidents also were caused by drivers that had consumed some form of drug before they decided to get behind the wheel and operate their vehicle.
Bad Intersections In San Diego For Car Accidents?
There are plenty of bad intersections in the city of San Diego, but the most dangerous intersections of all are highlighted below. These are the kinds of intersections where drivers will want to really stay attentive, the kinds of intersections where accidents are most likely to occur, and the kinds of accidents that motorists should try their best to avoid as often as they are able to.
University Ave. & 1st Ave.
Valley Pkwy & Midway Ave.
Linda Vista Rd. & Ulric St.
4th Ave. & C St.
University Ave. & 44th St.
University Ave. & Fairmount Ave.
Garnet Ave. & Mission Blvd.
Quintard St. & 3rd Ave.
North Harbor Dr. & Rosecrans St.
If you were injured in a San Diego area car accident, contact The Law Offices of Daniel Kim today and let us help you.