San Diego California is the ideal location for the bicycle enthusiast. Sensational year-round sunshine and near perfect weather, incredible rides along the beaches complete with Pacific Ocean views, make San Diego one of the best places in all of California for the bike rider.
And whether you're out for a scenic afternoon cruise or commuting to and from school or work, riding a bike in and around the City of San Diego is a breeze thanks to the thousands of miles of dedicated bike lanes, paths and trails put in place in an effort to keep cyclists safe.
In fact, there are approximately 328 cycle routes in San Diego consisting of over 32,000 miles of mapped bike paths and trails.
Some of the most popular San Diego bike rides include the Carlsbad Coastal Rail Trail, the Solana Beach Coastal Trail, the Mission Bay Bike Path, and the Bayshore Bikeway on Coronado.
As great as these bike lanes and paths are, the unfortunate reality is that whenever bicycles and motor vehicles share the road there are bound to be accidents and injuries as a result of the crash.
If you or a family member has been injured in a San Diego bike accident, contact us at The Law Office of Daniel Kim immediately for a Free consultation.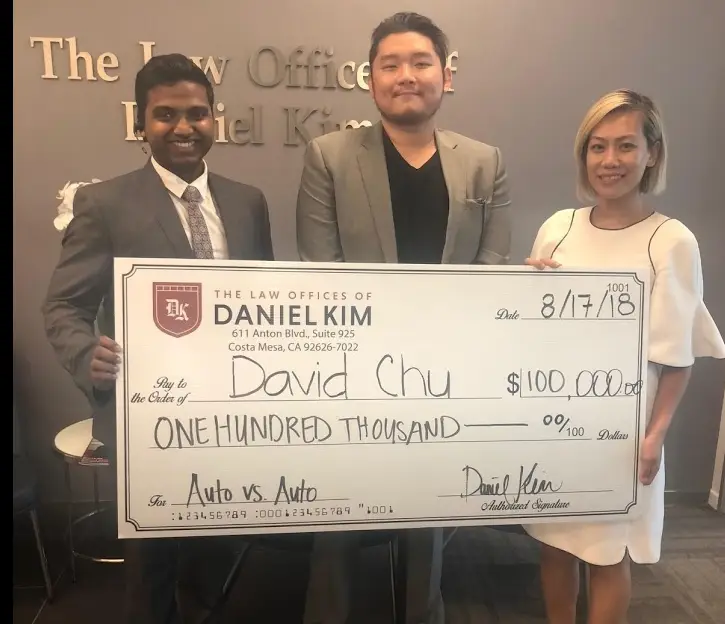 Why Contact The Law Offices Of Daniel Kim?
If you have been injured in a San Diego bike accident, you will need an experienced personal injury attorney to fight for you against the big insurance companies.
Sadly, being injured in a bicycle accident involving a car or truck is probably going to result in serious injuries.
Even worse, this is only the beginning of what can very quickly turn into a nightmare.
Loss of earnings or wages, mounting medical bills, and extended recovery time can all cause major interruptions and stress in your life.
Hiring the right personal injury law firm to represent you can make all the difference in the world when it comes to seeking financial compensation from a negligent party's insurance carrier.
The Law Offices of Daniel Kim are an experienced bicycle accident law firm that has been representing the good people of San Diego for many years.
We have over 1000 positive reviews on Yelp, Facebook, and Google from previous clients that were more than satisfied with our results.
Our expert legal team and attorneys deal with bike accident cases every day and know exactly how the law and insurance companies work. We will negotiate with them aggressively to make sure we get you the compensation you deserve.
The Law Offices of Daniel Kim operates on a No Win/No Fee policy, meaning that there are no fees until we win your case.
Our attorneys will build the best case possible and fight tooth and nail for you so that you receive the maximum compensation available.
Contact The Law Office of Daniel Kim today for a Free consultation and case review. We are available now to help you.
Common Causes Of Bicycle Accidents In San Diego
San Diego is one of the most bicycle friendly cities not only in California but in the nation.
It is consistently ranked in the top 10 US towns and cities for cycling.
And these days you don't even need to own your own bike.
San Diego has a huge variety of bike rental businesses, a thriving bike share program, and now the growing trend of dockless on-demand bike companies.
Even with the safety measures put in place by the city, San Diego still sees more than its fair share of bicycle accidents.
On more than one occasion, the offending motorist simply lacked any basic bicycle awareness skills needed to safely share the road with cyclists, let alone large numbers of them like in San Diego.
We also need to remember that not all bike accidents in San Diego involve a collision with a motor vehicle.
Pedestrians, dogs, and even other bike riders can be the cause of a bicycle accident.
Some common reasons for San Diego bike accidents include:
Driver distraction – illegally using a phone and texting, checking GPS, and looking for the perfect parking spot are all causes of inattentive driving crashes.
Dooring – this is extremely common, especially in bicycle rich cities such as San Diego. This happens when a driver or passenger in a car or motor vehicle opens their car door without looking and a cyclist crashes into it.
Speeding – this is still the number one cause of all motor vehicle and traffic accidents across the US. Speeding vehicles usually do not have enough time to stop and can crash into a cyclist causing serious injuries.
DUI – drunk driving is a leading cause of all motor vehicle accidents, even with the immense popularity of apps like Uber and Lyft. A motorist driving under the influence of drugs or alcohol will usually find their reflexes and reaction times diminished and may not see a bicycle rider on the road with them, particularly at night
Bad weather – rain is not very common in a place like San Diego where the weather is pretty amazing nearly all the time. Because of this, many drivers are not experienced with driving during inclement weather and can find slippery roads difficult to deal with.
Side swiping a bicyclist – many times a car or truck will not give a cyclist enough room when passing and collide with them from the side. This is particularly prevalent when a motor vehicle is merging from one lane to another or turning a corner.
Whatever the cause of your San Diego bike accident, the Law Offices of Daniel Kim can help you.
Common Injuries From A Bike Accident
Due to the unprotected nature of being in the open and on two wheels, bicycle riders are at a much greater risk of serious injury if involved in an accident than a driver or passenger of a motor vehicle.
Injuries sustained in a San Diego bike accident could include:
Head injuries – brain bleeds, concussion, and TBI (Traumatic Brain Injury).
Broken and fractured bones – broken wrists and ankles are the most common injuries after a bike crash.
Internal injuries – organ damage and internal bleeding are both common and serious.
Cuts and bruises – almost a guarantee after being struck by a motor vehicle.
Neck and back injuries – neck sprain, whiplash, bulging or herniated discs, and severe spinal cord damages are commonly reported.
Loss of limbs – in a very serious accident, especially one that is caused by severe lacerations, amputation could be required.
Death – the absolute worst-case scenario, and a wrongful death case could be filed.
How Many Bicycle Accidents Happened In San Diego
Thanks to its year-round incredible weather and picture-perfect climate, San Diego sees quite a bit of bicycle traffic on a day-to-day basis almost every day of the year.
There's nothing better than climbing atop your bicycle and cruising around the city streets, soaking in that Southern California sunshine and avoiding a lot of the traffic that this city has to deal with every day.
At the same time, all of that cycling traffic inevitably leads to higher instances of bicycle accidents inside of city limits. During 2017 there were more than 480 cycling accidents reported.
How Many Injuries And Fatalities Were Caused By Bike Accidents In San Diego 2017?
Bicycle accidents have high rates of injury and fatality, especially when you're talking about bicyclists being struck by passenger vehicles, commercial vehicles, and motorcycles frequently traveling at high rates of speed.
In 2017 there were more than 450 injuries and fatalities reported as a direct result of cycling accidents in San Diego.
What Percentage Of Bike Accidents Involved Alcohol or Drugs?
According to city data, 18% of motor vehicle accidents – including accidents involving bicycles and cyclists – were caused by drivers operating under the influence of alcohol. On top of that, the same city data also reports that 13% of all motor vehicle accidents (including those involving bicycles) are caused by drivers operating under the influence of drugs.
Deadliest Intersections In San Diego For Bicycle Accidents?
It's almost impossible to find any San Diego city streets not flooded with cycling traffic regularly thanks to that gorgeous Southern California weather we enjoy all year round.
On the flip side of things, there are a handful of intersections throughout the city of San Diego that are particularly dangerous for cyclists. Here are just some of the worst offenders:
University Ave. & 1st Ave.
Federal Blvd. & Euclid Ave.
El Cajon Blvd. & Altadena Ave.
Camino Del Rio & Sports Arena Blvd.
University Ave. & Fairmount Ave.
Garnet Ave. & Mission Blvd.
El Cajon Blvd. & Boulevard Pl.
Rosecrans St. & Midway Dr.
North Harbor Dr. & Rosecrans St.
What Percentage Of Bike Accidents Involved A Distracted Driver?
Distracted and inattentive driving remains a huge challenge for California motorists as well as California cyclists. According to state reports, more than 80% of all accidents on California roadways are directly linked to some form of driver inattention. On top of that, 80% of motor vehicle operators report that they use their cell phones while they are driving even though they understand it is both distracting and against the law.