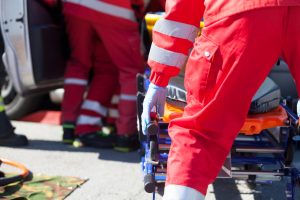 Two Hurt in San Diego Bus Crash on 28th Street

SAN DIEGO, CA (May 4, 2021) — Two people were injured in a bus accident on 28th Street at Boston Avenue Tuesday morning.

According to San Diego police officers, the two-vehicle collision happened just before 8:30 a.m. at a Barrio Logan intersection. For unexplained reasons, a driver in a utility van rear-ended a San Diego Unified School District school bus. Fortunately, no students had been on board at the time. However, the bus driver, as well as the driver of the San Diego Gas & Electric van, suffered serious injuries.

Soon after, paramedics responded and transported the driver of the van to UCSD Medical Center in critical condition.

At this time, authorities have no information on the circumstances and events of the accident. Although, if anyone has more information on this crash, please contact the San Diego Police.

To increase your safety while driving, focus your undivided attention on the road. You take a risk every day by driving a car. However, you can reduce the risks by exercising defensive driving.
---
The Law Offices of Daniel Kim has won more than two hundred million dollars in thousands of successful lawsuits. If you have a personal injury claim that you would like to review, call our firm. Daniel will work with you to learn the details of your situation. While you invest your time and effort into recovering, we will handle the insurance claims, doctor's appointments and police reports. To schedule a free consultation with Daniel, call (800) 895-7199. You can also request a copy of the police report from the car accident.