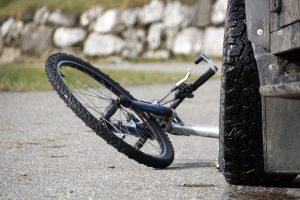 Hit-and-Run Driver Involved in Bicycle Accident on Missouri Flat Road in Diamond Springs

DIAMOND SPRINGS, CA (May 29, 2021) – Officers are now looking for a truck driver after a bicycle accident on Missouri Flat Road on May 16.

According to the California Highway Patrol, the collision happened near Pleasant Valley Road around 10:15 AM.

Based on a report, a Chevrolet Silverado was headed south on Missouri Flat Road prior to the crash. When the driver turned left onto Pleasant Valley, the truck drove onto the shoulder and hit a bicyclist. Subsequently, the vehicle fled the scene.

At this point, the condition of the bicyclist is not yet clear.

Currently, CHP officials are looking for the truck and its driver. They describe it as a 2016 to 2018 model with "Redline Edition" red wheel markings and black running boards. In addition, they ask anyone with information about this bicycle accident on Missouri Flat Road to call Officer Lane or Sepulveda at (530) 748-2450 or (916) 861-1300.

Avoid distractions when driving to prevent an accident. However, always stay alert when driving. Above all, always consider the movements of small vehicles like bicycles and motorcycles around you to prevent an accident.
---
If you have been hurt in a bicycle accident, you can call The Law Offices of Daniel Kim for assistance in filing a case against the party responsible for the incident. Daniel works hard to ensure that victims of personal injury accidents receive the compensation they rightfully deserve. We will work with you personally and one-on-one to better understand your situation. We will win back what was taken from you. Call us today at (800) 895-7199 to schedule your FREE consultation today. You can also request a copy of the police report with us.