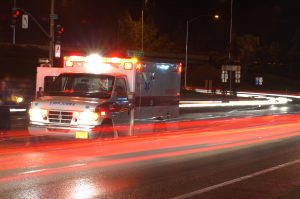 Multi-Vehicle Accident on Highway 76 in Oceanside Sends 3 People to Hospital

OCEANSIDE, CA (April 27, 2022) – Three people were taken to a hospital after a multi-vehicle accident on Highway 76 in Oceanside on Saturday evening.

The accident happened around 9:20 p.m. on April 23 near Foussat Road. According to North Comm Fire, the crash involved three cars.

When authorities arrived at the scene, they found one of the cars in a ditch and rescued the two people who were inside.

Paramedics then transported a total of three patients to a local hospital for treatment of unspecified injuries.

Details of how the crash occurred were not immediately available. The California Highway Patrol is still trying to determine the exact cause and liability.

To avoid traffic accidents, increase your following distance behind other vehicles and maintain a safe speed. Always check your blind spots and observe turn signals. Also, avoid distractions and scan the road for hazards.
---
The Law Offices of Daniel Kim remain a superior option for car accident victims seeking compensation. We believe every client should receive personal legal advice tailored to his or her specific case. If you have been involved in a car accident and need specialized legal care, then let us help you. Our attorneys will handle everything while you rest and recover. To schedule a free case consultation with Daniel, call (800) 895-7199. You can reach out to us 24 hours a day and 7 days a week if you have questions. You also can request a copy of the police report for your reference.