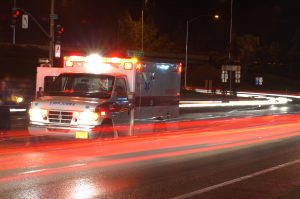 Big Rig Involved in Car Accident on Alamo Street in Riverside

RIVERSIDE, CA (March 10, 2021) – A Rialto police officer suffered injuries in a car accident on Alamo Street on March 9.

According to the California Highway Patrol, the collision happened near the intersection of Main Street at approximately 10:00 AM.

Based on a report, the officer was in an unmarked vehicle at the time of the crash. Due to unknown reasons, it collided with a big rig. Subsequently, it spun off the road and into a parked car, trapping the officer inside.

Firefighters used hydraulic tools to remove the driver's side door and rescue the victim. As a result, he suffered non-life-threatening injuries in the incident. Immediately, crews transported him to a hospital for treatment. The trucker was not hurt.

At this point, no other details about this car accident on Alamo Street are available. However, the Riverside Police Department is investigating the case.

Distracted driving often leads to an accident. Do not fall into this mistake when driving. Always stay alert when driving. Above all, always consider the movements of other vehicles around you to prevent an accident.
---
If you have been injured in a car accident, you can call The Law Offices of Daniel Kim for assistance in filing a case against the party responsible for the incident. Daniel works hard to ensure that victims of personal injury accidents receive the compensation they rightfully deserve. Each of our clients receives personal legal advice tailored to his or her specific case. We will work with you personally and one-on-one to better understand your situation. Call us today at (800) 895-7199 to schedule your FREE consultation today. In addition, you can also request a copy of the police report.