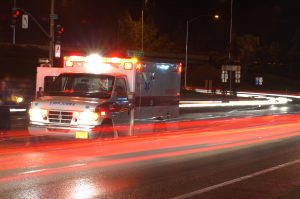 Two Vehicles Involved in Accident on Silverado Trail in Napa

NAPA, CA (October 21, 2021) – One person suffered serious injuries in an accident on Silverado Trail on October 18.

According to the California Highway Patrol, the collision happened at Oak Knoll Avenue at approximately 8:40 AM.

Based on an initial report, a 2017 Infiniti sedan was traveling in the northbound lane of Silverado prior to the crash. Due to unknown reasons, it attempted to pass a 2018 Ram pickup truck. Subsequently, it clipped the side of the Ram, lost control, and struck a tree.

As a result, the sedan driver, a 25-year-old Bellflower resident sustained major and life-threatening injuries. An ambulance transported the victim to Providence Queen of the Valley Medical Center. The man driving the pickup, a 26-year-old resident of Boulder, Colorado, was not hurt in the wreck.

At this point, an investigation into the crash is ongoing.

Speeding often leads to an accident. Do not fall into this mistake when driving. Follow speed limits at all times. Above all, always consider the movements of other vehicles around you to prevent an accident.
---
If you are injured in an accident, you can call The Law Offices of Daniel Kim for assistance in filing a case against the party responsible for the incident. Daniel works hard to ensure that victims of personal injury accidents receive the compensation they rightfully deserve. Each of our clients receives personal legal advice tailored to his or her specific case. We will work with you personally and one-on-one to better understand your situation. Call us today at (800) 895-7199 to schedule your FREE consultation today. In addition, you can also request a copy of the police report. With a success rate of over 99%, you can trust your lawsuit with our team. Above all, our team is here for you every step of the way.