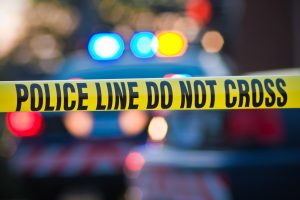 Nickoles Snow Dies in Chain-Reaction Crash in Oakdale

OAKDALE, CA (April 12, 2021) – A motorcyclist died Saturday evening after a chain-reaction accident on Valley Home Road near Oakdale.

Police identified the victim as 26-year-old Oakdale resident Nickoles Snow.

According to the California Highway Patrol, the accident happened around 8:40 p.m. on March 27 just north of Lambuth Avenue.

Snow was riding a 2003 Honda motorcycle southbound at allegedly high speeds. He then rear-ended a 2017 Ford passenger van carrying eight people. The impact ejected him onto the roadway, where a northbound 2008 Acura sedan struck him.

Meanwhile, a southbound 2012 Ford pickup, driven by 33-year-old Travis W. McRae, struck the downed Honda, pushing it along the roadway. It went off the southwest edge of the road, struck a wooden power pole, shearing it at its base.

McRae regained control of the pickup and drove onto the east shoulder of Valley Home Road. The motorcycle now lay near the power pole and caught fire.

Snow died at the scene.

All other involved parties were unharmed.

CHP officials are still trying to determine if alcohol or drugs was a factor. An investigation is ongoing.
---
We express our condolences to the family and friends of Nickoles Snow.
---
If your loved one died one in a motorcycle accident, you can reach out to the Law Offices of Daniel Kim today. Our main goal to give your loved one the highest quality of legal representation. We have successfully handled several wrongful death cases in our years of practice. We work on a contingency basis. You pay absolutely nothing unless we win your case. Reach out to us today at (800) 895-7199 for a free consultation. We can also help you request a police report.