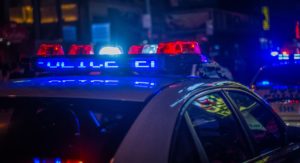 Rider Critically Injured in Two-Vehicle Crash on Highway 154

SANTA BARBARA, CA (July 8, 2021) — One person sustained serious injuries in a two-vehicle accident on Highway 154 on Friday, July 2.

At 9:10 p.m., officials responded to the accident on the 3500 block of Highway 154 near St. Francis Ranch. The crash reportedly involved a Toyota Corolla and a motorcycle.

Responding officers found the rider in the middle of the eastbound lane. Paramedics immediately initiated advanced life support on the injured rider.

Officers requested a Calstar medical helicopter. Emergency personnel on the ground directed the crew to a landing site near the entrance to Cachuma Lake.

Medics airlifted the rider to Santa Barbara Cottage Hospital for treatment.

Officials closed Highway 154 at the intersection with Highway 246 and Paradise Road while crews work on the scene.

CHP officers continue to investigate the circumstances of the incident.

There is no other information available about the crash.

When you are driving, make sure to pay attention to your surroundings and look out for other vehicles. By driving with caution, you can prevent dangerous accidents on the road. Don't forget to follow traffic rules to keep yourself and others safe.
---
If you sustained injuries in a road accident, the time to file a personal injury case is now. A personal injury attorney from The Law Offices of Daniel Kim can help you get the financial compensation you deserve. Our experienced team of attorneys can guide you through the process. We will fight for you when it's time to make your claim. Let us guide you through the next steps. Call us today at (800) 895-7199 for a free consultation. If you are a family member of the victims involved in this accident, we can help you request a police report.