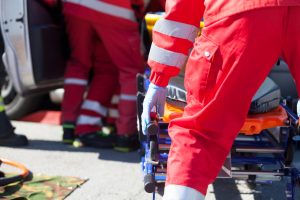 Jose Munoz Detained in Stolen Car Crash at Islay Street and State Street

SANTA BARBARA, CA (May 17, 2021) — Jose Munoz faces charges in Saturday's stolen car accident at Islay Street and State Street.

According to officials, police located Munoz in a stolen car committing multiple traffic violations. Around 12:20 p.m., a chase unfolded, and several Santa Barbara police officers responded to assist.

However, the officer who tried chasing down Munoz eventually abandoned the chase for safety reasons. Shortly after, Munoz crashed into a city bus, occupied by six people.

Due to the accident, 24-year-old Munoz and a juvenile passenger suffered major injuries and required care at Cottage Hospital. In addition, two passengers on board the bus suffered minor wounds. Following the investigation, officers arrested Santa Barbara resident Munoz on DUI charges. However, there are no further details.

There are several ways to increase your chances of safety. By keeping a safe distance from other cars and driving at a careful speed, you can have better control of the road and emergencies.
---
Have you been injured in a car accident and would like an experienced attorney? Turn to The Law Offices of Daniel Kim. We are devoted legal professionals, driven to help you during this time. Our firm has settled more than 200 million dollars for clients in thousands of successful lawsuits. With our impressive success rate of over 99%, we feel qualified to represent you. To schedule a free consultation with Daniel, call (800) 895-7199. In addition, you can request a copy of the police report from the accident. Above all, our team is here for you, from start to settlement.