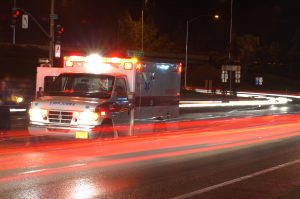 Car Accident on Telephone Road in Ventura Sends Four People to Hospital

VENTURA, CA (March 24, 2021) – Emergency personnel sent four people to hospitals after a car accident at Telephone Road and Johnson Drive in Ventura.

According to the California Highway Patrol, the accident happened around 6:30 p.m. Saturday, March 20.

CHP officials did not provide details of how the crash occurred, but four people sustained injuries as a result of the accident. Three ambulances transported the victims to Community Memorial Hospital and Ventura County Medical Center for treatment.

One victim required extrication from a vehicle prior to being transported, authorities said. Three of the victims suffered minor injuries, while the fourth victim suffered moderate injuries.

Officials temporarily closed the intersection while they worked on the scene. The intersection reopened to traffic by 7:30 p.m.

The circumstances of the accident remain under investigation.

When you are behind the wheel, make sure to pay attention to your surroundings and look out for other vehicles. Prevent dangerous accidents on the road by driving attentively. Strictly follow traffic rules to keep yourself and others safe.
---
The Law Offices of Daniel Kim remain a superior option for car accident victims seeking compensation. We believe every client should receive personal legal advice tailored to his or her specific case. If you have been involved in a car accident and need specialized legal care, then let us help you. Our attorneys will handle everything while you rest and recover. To schedule a free case consultation with Daniel, call (800) 895-7199. You also can request a copy of the police report for your reference.