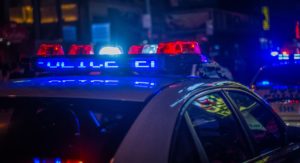 Deputy Hurt, DUI Crash near 16th Avenue in Oakland

OAKLAND, CA (May 9, 2022) — A deputy was injured in a DUI accident near 16th Avenue and Foothill Boulevard on Sunday morning.

According to the Alameda County Sheriff's Office, the two-vehicle accident occurred around 4:30 a.m. For DUI-related reasons, a high-speeding driver ran a red traffic light and slammed into a deputy's patrol vehicle.

As a result of the impact, the high-speeding vehicle overturned and landed on its side on the lawn of Foothill Missionary Baptist Church. Meanwhile, the deputy's car sustained significant front-end damage.

Not long after, paramedics arrived at the scene and brought the officer to a hospital for treatment while police arrested the drunk driver.

At this time, news about whether the deputy tried to pull over the driver prior to the crash remains unclear. However, an ongoing investigation into these outstanding details should clarify more information.

Drinking and driving only maximizes the risks of car accidents. If you plan to drink, make plans to get a ride home with a Rideshare professional. Doing so protects you and others on the road as alcohol and drugs can compromise your judgment and vision.
---
When searching high and low for an experienced lawyer for representation, consider The Law Offices of Daniel Kim. Daniel had years of experience in settling negligent car accidents. While you rest and recover from your head injuries, Daniel will help get you justice. Our duty lies in representing you in the best light possible to compensate you for the driver's heinous actions. If interested in learning more, call (800) 895-7199. We can also get you a copy of the police report from the accident.