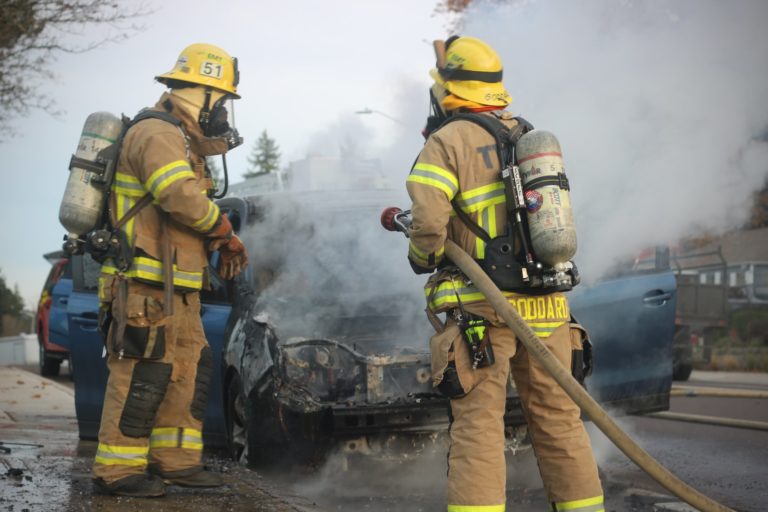 Vehicle Catches Fire in Multi-Car Crash on Highway 14 in Newhall

NEWHALL, CA (February 21, 2023) — A 3-car accident ended with a car on fire on Highway 14 near Placerita Canyon Road.

According to the Los Angeles County Fire Department and California Highway Patrol, the three-vehicle collision happened Friday. Under unclear circumstances, three cars crashed on Highway 14, causing one vehicle to burst into flames.

The incident blocked the northbound No. 1 and carpool lanes for nearly 20 minutes before authorities and Los Angeles County Fire Department officials arrived.

Linden Soholt, the owner of the torched automobile, stated he was driving when all of a sudden, the vehicle caught on fire. He elaborated, saying that a Good Samaritan stopped by with a fire extinguisher, but the flames burst otherwise.

Officials did not release the ultimate cause of the accident. However, they did confirm that no one reported any injuries in the crash.

Reduce the chances of car accidents by exercising defensive driving practices. Keep some space between your vehicle and other cars nearby. Make a habit of using your mirrors and blinkers. In addition, keep your car maintained on a periodic basis. Cars will only perform as safely and optimally as how well it's being cared for.
---
A car accident can leave injuries, financial setbacks and property damage in its wake. At The Law Offices of Daniel Kim, our responsibility lies in helping crash victims recover in light of a negligent car accident. Trust us to take the lead in your case and get you fully reimbursed for your pain, injuries and suffering. We know that life can become challenging as medical bills pile up. With our legal aid, however, we will grant you full recovery for your losses and injuries. Call (800) 895-7199 for a free consultation.