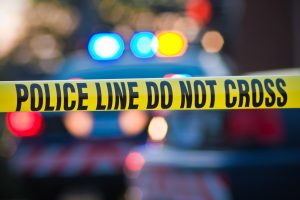 At Least 6 Killed in Windsor Hills Multi-Car Accident at La Brea Avenue and Slauson Avenue

WINDSOR HILLS, CA (August 5, 2022) — Six people died in a multi-car accident at La Brea Avenue and Slauson Avenue on Thursday.

According to the California Highway Patrol, the horrific multi-vehicle crash happened around 1:40 p.m. at an active intersection. For reasons unknown, a 40-year-old woman operating a dark-colored Mercedes-Benz barreled through a red traffic light, ripping through slow crawling traffic.

Video surveillance showed the Mercedes hurtling through the line of cars, broadsiding a dark-colored vehicle at the intersection and eventually involving six cars in total. At least one car caught fire as a ball of inferno ruptured upon the initial hit.

Upon impact, debris flew into the air, striking uninvolved bystanders, many of whom were pumping gas. According to a witness, an infant had been ejected from one of the vehicles and landed on the ground in front of her as she was pumping fuel.

Shortly after, paramedics responded and brought eight people, many of whom were teens, to Ronald Reagan UCLA Medical Center with a range of injuries.

Five of the deceased died at the scene, and authorities discovered one person inside one of the charred vehicles. Among those dead included a pregnant woman and an infant. As for the 40-year-old woman who authorities say might have caused the crash, she suffered major injuries.

At this time, authorities have not confirmed the ultimate cause of the accident but do believe speed played a part. We will update this report with the victims' names and the ongoing investigation.
---
Our deepest sympathies go out to the families and friends of the victims.
---
Contact The Law Offices of Daniel Kim to file a wrongful death claim. We are a top-rated firm with more than 40 awards and honors. Our firm has disputed more than over 200 million dollars for clients in thousands of successful lawsuits. Rather than settling with these unfair circumstances, get Daniel involved. Work with an experienced lawyer with the qualifications to compute your losses and seek repayment from the negligent driver. Call (800) 895-7199. In the meantime, we can get you a copy of the police report from the accident.