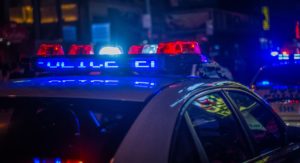 DUI Driver Slams into Squad Vehicles on Casa Loma Avenue in Yorba Linda Injuring 4 Deputies

YORBA LINDA, CA (July 21, 2022) – Four deputies were injured in a DUI chain-reaction accident on Casa Loma Avenue in Yorba Linda early Tuesday, on July 19.

The accident happened around 12:30 a.m. near Imperial Highway. According to the Orange County Sheriff's Department, two patrol cars were stopped on the side of the road as the deputies were speaking with a driver from a previous traffic stop.

As they conducted their operation, a pickup truck speeding south on Imperial Highway slammed into patrol vehicles, causing one unit to hit the four deputies.

Paramedics took the deputies to a hospital with minor to moderate injuries.

The driver from the initial traffic stop was also taken to a local hospital.

Police later arrested the driver of the pickup truck on suspicion of DUI. An investigation is underway.

Never drive while under the influence of alcohol or drugs. Your poor choices may result in forever changing your life and the lives of others who were doing absolutely nothing wrong. Always chose to be a better driver.
---
At The Law Offices of Daniel Kim, we aim to help victims get the compensation they deserve following a traffic accident caused by somebody else's negligence. Our team will personally work with insurance claims, medical bills, and much more. Moreover, Daniel will dedicate his time to better understand the unique aspects of your case. Together with top-rated car accident lawyers, we provide clients with personalized legal advice. Call us as soon as possible at (800) 895-7199 to schedule your free, one-on-one consultation. We work on a contingency basis so you pay absolutely nothing unless we win your case. If you need a copy of the police report, our team can also help you get one. Your case is our priority so you can focus on things that matter.