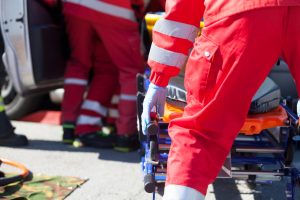 Multi-Vehicle Crash on Highway 84 Hurts 3 in Livermore

LIVERMORE, CA (April 27, 2021) — A multi-vehicle crash on Highway 84 left three people injured Saturday night in the Livermore area.

Alameda County fire officials said crews were dispatched to the incident at around 8:47 p.m. They found six vehicles involved in a collision when they reached the scene.

The cause and the circumstances surrounding the incident were not immediately clear. However, based on reports, three people sustained injuries and received treatment in a hospital. One of them was in critical condition, while the other two had moderate injuries.

Additionally, the six-vehicle pileup prompted the closure of four lanes of Highway 84 near Vallecitos Road for about an hour. The area has since reopened.

Meantime, the authorities are still investigating the cause of this crash and will release further details once they become available.

When behind the wheel, safety should always be your top priority. Do not multitask and keep your attention on driving at all times. Never drive impaired and do not forget to buckle up for safety. In addition, always drive at safe speeds and follow the conditions of the road. Driving too fast for conditions increases the risk of an accident.
---
When injured in a multi-vehicle accident, it is important to have a dependable and experienced attorney by your side. Let The Law Offices of Daniel Kim help you get your life back together and fight for the compensation you deserve. Our firm has won over two hundred million dollars for our clients in thousands of successful settlements. With an over 99 percent success rate, you can be sure you are in excellent hands. Call us today at (800) 895-7199 for your free consultation. Moreover, we can help you request a copy of the police report from your accident.