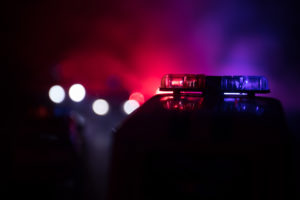 CHP Officer Hurt Injured in Nuevo Crash on Ramona Expressway at Lakeview Avenue

NUEVO, CA (July 26, 2021) — Two people suffered injuries in a crash on Ramona Expressway at Lakeview Avenue in Nuevo.

The Wednesday afternoon collision occurred at about 4:05 p.m. According to the authorities, one of the injured parties is an officer of the California Highway Patrol.

The circumstances leading up to the crash were not immediately clear. Based on reports, however, there were two vehicles involved — a CHP patrol unit and a sedan. The sedan reportedly crashed into the patrol unit but no additional details were available.

Both the CHP officer and the private vehicle driver sustained minor injuries. The Riverside County Fire Department personnel requested separate ambulances for them. However, both of the patients refused transport to the hospital.

Officials also called in a tow truck to the scene to remove the damaged patrol car. Meanwhile, no arrests were made in relation to the crash which is under investigation.

When behind the wheel, safety should always be your top priority. Do not multitask and keep your attention on driving at all times. Never drive impaired and do not forget to buckle up for safety. In addition, always drive at safe speeds. Driving too fast for conditions increases the risk of a fatal accident.
---
If you have suffered injuries due to a reckless driver, then reach out to The Law Offices of Daniel Kim. Because we take the time to truly get to know each and every client, you get personalized, one-on-one legal service. We will personally work with police reports, insurance claims, medical bills, and much more. So focus on healing and recovery while we handle the rest. Call us today at (800) 895-7199 to schedule your free consultation with a top-rated car accident injury attorney. We can also assist you in obtaining a police report from your accident.