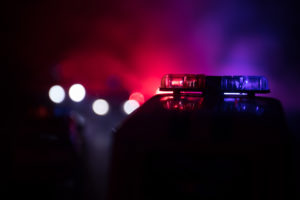 Driver Arrested in Los Angeles Pursuit Car Crash at Roscoe Boulevard and Woodman Avenue
LOS ANGELES, CA (April 5, 2021) — Two people were hurt after a police chase ended in a car crash at Roscoe Boulevard and Woodman Avenue Friday night in Panorama City.
According to the authorities, officers attempted to have a driver pull over. However, the driver did not stop and then blew a red light. He subsequently crashed into at least one car at the Roscoe Boulevard and Woodman Avenue intersection.
The driver got out of the vehicle after the crash and tried to flee the scene on foot. However, the police swiftly apprehended him and then took him into custody.
Later, the officers informed that the driver is a car theft suspect whose name has not been released. They also confirmed that two people received treatment in an area hospital following the crash. No additional information was immediately available.
When involved in a traffic stop, it is important to stay calm. Pull over in a safe spot and turn off your engine. Keep your hands on the steering wheel, and do not get out of the vehicle unless the officer directs you to do so. Respond when appropriate and be respectful. More often than not, being argumentative and hostile led to many a problem with police officers.
---
The Law Offices of Daniel Kim has a success rate of over 99% and have won over $200 million for our clients in thousands of successful settlements. If you have been injured in a car accident, call us immediately at (800) 895-7199 to schedule your free consultation. While you focus on your healing and recovery, we will handle the rest. Get in touch with us today to also request a copy of the police report from your accident.