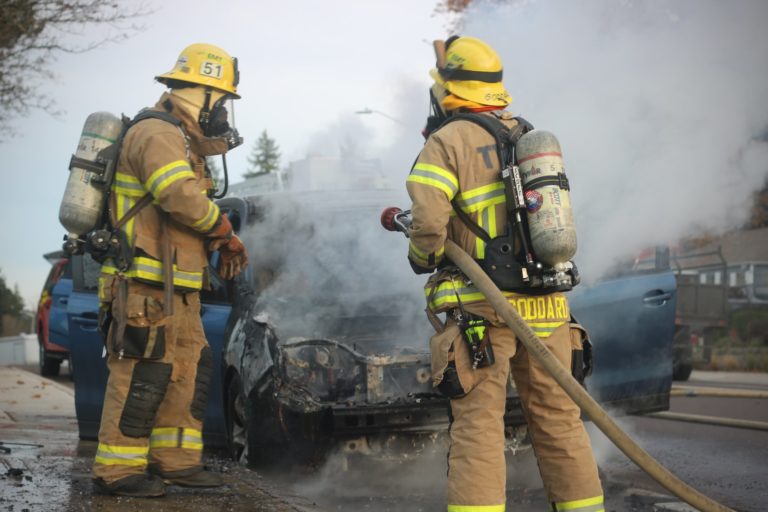 2 Tractor Trailers Crash, Fire Erupts on 10 Freeway in Redlands

REDLANDS (August 24, 2022) — Two big rigs crashed, and a fire erupted on the 10 Freeway near 6th Street on Thursday morning.

According to the California Highway Patrol, the two-vehicle accident happened around 5:00 a.m. Under unclear circumstances, a driver of a tractor-trailer hauling tequila pulled to the right shoulder after experiencing a flat tire.

Moments later, a second tractor-trailer hauling bread crashed into the disabled vehicle causing considerable damage to both trucks.

Due to the impact, a fire erupted and ignited both trailers. Soon after, firefighters responded to the scene and took two hours to extinguish the blaze. Loma Linda Fire Department officials and Redlands Police also responded to help the victims of the accident.

At this time, police officers have not concluded the leading cause of the crash. However, if anyone has information to share, please call the CHP.

When driving on fast-moving highways, be vigilant of your surroundings. Know that you may find disabled vehicles on the shoulder. Stay in your lane and focus on the road ahead.
---
For your personal injury claim, refer to a personal injury law group dedicated to crash survivors. The Law Offices of Daniel Kim is a top-rated firm with more than 40 awards and honors. You can leave the police reports, hospital bills and insurance claims to us to manage. While you focus on recovering from your head injuries, we will handle the details of your investigation. For the next steps in your case, call (800) 895-7199.