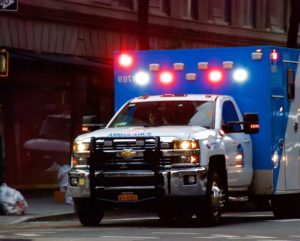 Hit-and-Run Los Angeles Bicycle Crash on Haskell Canyon Road

LOS ANGELES, CA (May 10, 2022) — One person escaped injury in a hit-and-run bicycle accident on Haskell Canyon Road at Bouquet Canyon Road on Sunday.

According to the Los Angeles County Fire Department, the bicycle accident happened Sunday at an Albertson's parking lot.

Under unclear circumstances, a driver struck a person, described as a minor, as the person was riding a bicycle. Subsequently, the driver fled the scene.

Soon after, emergency personnel responded to the crash site and assessed the victim who reported no injuries.

Although the victim reported no injuries, police still need the public's help in identifying the driver. Therefore, if anyone has more information on this accident, please contact the Los Angeles police.

When driving in parking lots, slow down. You will find people crossing along the way, trying to get to their vehicles. Slow down and be alert to minimize the risk.
---
For distinguished legal advocacy that will make all the difference in your case, turn to The Law Offices of Daniel Kim. We help car accident victims and families in need of the wherewithal to cover these unexpected medical expenses. A car accident can result in job loss, loss of enjoyment of life and catastrophic injuries. Although no amount of compensation can equate to your suffering, you can seek help from our lawyers. Call (800) 895-7199 to schedule your complimentary consultation with one of our personal injury lawyers. In the meantime, we can also get you a copy of the police.