A Trusted & Experienced Los Angeles Truck Accident Lawyer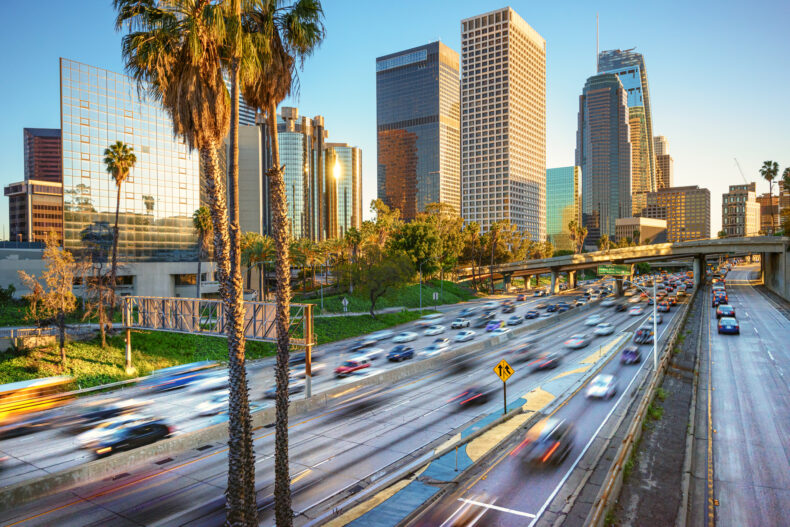 Were You Injured in a Truck Accident in Los Angeles?
Truck accidents can result in extensive property damage, catastrophic injuries, mental distress, and psychological trauma. If you or a loved one suffered injuries in a Los Angeles truck accident, we will protect your rights. We understand that commercial truck accidents can cause financial strain and a lifetime of losses. The Law Offices of Daniel Kim is committed to helping truck accident victims recover fair compensation.
We have offices throughout Southern California, ready to take on your truck accident claims. The Law Offices of Daniel Kim has recovered over $250 million dollars in verdicts and settlements for our clients. Contact us today to schedule a free consultation. 
No Win. No Fee. Guaranteed.
Our award-winning law firm works on a contingency fee arrangement, which means clients don't have to worry about paying any upfront lawyer fees. You will only pay for our services once we win your truck accident case.

CALL NOW
Why Hire Daniel Kim as Your Los Angeles Truck Accident Lawyer?
Daniel Kim is continuously recognized by the community and distinguished legal associations including the Trucking Trial Lawyers Association, The National Trial Lawyers, and Super Lawyers.
The Law Offices of Daniel Kim exclusively represents people who were injured in motor vehicle accidents caused by the negligence of others. Daniel Kim and his multilingual team are in pursuit to provide the highest caliber of legal representation. Our award-winning personal injury law firm can provide you with the strategic legal advocacy you need to win your truck accident case.
How Can a Truck Accident Lawyer Help Me?
Truck accidents can cause catastrophic injuries including traumatic brain injuries and spinal cord damage. Many truck accident victims suffer from financial strain due to incurring extensive medical bills. An experienced Los Angeles truck accident lawyer will thoroughly investigate your truck accident claim and help you gather the evidence you need to prove negligence and hold the liable parties legally responsible. A lawyer who specializes in truck accident cases will be able to foresee and navigate any challenges pertaining to your case and will help you resolve your case in a timely manner.
Commercial truck companies and insurance companies are motivated to protect their bottom line and have their own team of lawyers on retainer. At The Law Offices of Daniel Kim, we know how to deal with insurance companies and their deceptive tactics. We will help you calculate the true value of your case and will represent you in court, if necessary, to help you recover the compensation you deserve.
It's crucial to secure legal representation as soon as possible for your truck accident case. The statute of limitations is the allotted time one has to file a lawsuit. Once the statute of limitations runs out, the legal claim is no longer valid. The allocated timeframe one has to file a personal injury claim in California is two years from the date the injury was sustained. If you are pursuing a lawsuit against a government agency, the claim must be filed within a 6-month period from the date of the injury. If you have questions regarding the timeframe you have to file a personal injury lawsuit, it's best to consult with a personal injury lawyer.
What Losses Can I Recover From a Truck Accident?
Truck accident victims can pursue losses in a personal injury claim for economic and non-economic damages. Punitive damages aren't typically awarded in personal injury cases, but these may also be awarded at the judge and jury's discretion.
Economic damages are financial losses that can be calculated with evidence such as bills and receipts. These types of damages can include the following:
Emergency medical care

Medical bills

Lost wages

Property damage

Ongoing medical expenses

Physical therapy costs
Non-economic damages are more qualitative in nature and difficult to prove without a skilled truck accident attorney. These kinds of damages can include the following:
Emotional trauma

Mental distress

Wrongful death

Pain and suffering

Loss of enjoyment of life
Punitive damages are granted in cases where the defendant exhibited gross negligence or egregious actions. For example, in the case of a drunk driving accident, the jury may decide that punitive damages are applicable. These kinds of damages are meant to punish the defendant for their especially harmful acts.
What Are Common Causes of Truck Accidents?
Most truck accidents are caused by driver error and are oftentimes preventable. The main causes of Los Angeles truck accidents include the following:
Distracted Driving
According to the Centers for Disease Control and Prevention, over 424,000 people were injured in distracted driving accidents in 2019. When drivers engage in non-driving activities on the road it poses a significant risk to others around them. This can include actions like using a phone, GPS, the radio, conversing with a passenger, or eating.
Driver Fatigue
Commercial truck drivers are more likely to experience fatigue while driving because they are on the road for long durations. Consequently, there are legal regulations that determine the driving limit for truck operators. Passenger-carrying truck drivers may consecutively drive a maximum of 10 hours after being off-duty for 8 consecutive hours.
Speeding
Speeding is one of the top causes of traffic fatalities across the United States. On average, speeding-related accidents result in over 30 fatalities each day. Notably, during a 5-year driving record, approximately 19% of all large truck drivers involved in fatal accidents had at least 1 speeding conviction prior to the crash.
Poor Truck Driver Training
Trucking companies are motivated by profit and keeping up with demand and may cut corners involving formal truck driver training. Currently, there isn't a minimum driving time required for new truck drivers, prior to beginning operations. Additionally, the ability to navigate harsh terrain or weather conditions such as driving in the snow, rain, or through the mountains is not tested.
Poor Vehicle Maintenance
When trucking companies or truck drivers operate their vehicles without regularly maintaining them, they increase the risk of a catastrophic truck accident. The laws that govern trucking companies are more complex than those that govern passenger vehicles. For example, commercial trucks must be inspected before and after every trip and these trucks could be stopped at any time for a roadside inspection. Additionally, any defects or deficiencies must be reported to the driver and the carriers must make the necessary repairs before the vehicle is dispatched again.
Poor Weather
Adverse weather conditions including snow, rain, fog, high winds, and ice can create a hazardous environment for drivers. When the roads are slippery, vehicles can lose traction and hydroplane. This is especially dangerous for trucks that weigh a lot more than passenger vehicles and require more time to stop. Consequently, truck operators must take greater care than normal in poor weather conditions to reduce the risk of an accident.
Driving Intoxicated
When drivers operate their vehicles under the influence of drugs or alcohol it puts others around them at great risk. According to California law, it is illegal for a driver with a blood alcohol concentration (BAC) of 0.04 or more to operate a commercial truck. In 2020, the percentage of large truck driver fatalities with a BAC at or above 0.08 more than doubled, to 7%.
Improperly Loaded Cargo 
When cargo is not balanced or is loaded improperly, it can cause a truck to tip over or jackknife. Traffic accidents involving improperly loaded cargo can cause potentially catastrophic and fatal accidents due to the weight and uneven distribution of the cargo.
Who Is Liable in a Truck Accident?
To prove liability in a truck accident, certain elements must be established in a personal injury case. These elements include the following:
The duty of care – It must be established that the defendant owed a duty of care to the plaintiff to operate their vehicle in a safe manner.
The breach of the duty of care – The defendant must have breached the duty of care by not conducting themselves in a safe and reasonable manner.
Causation – The defendant's actions were a direct cause of the accident.
Damages – The plaintiff suffered damages because of the accident.
When a plaintiff can successfully prove all these elements, they can recover compensation for their losses. California's comparative negligence tort law allows victims who suffered losses in an accident to pursue compensatory damages from the at-fault parties. The at-fault parties involved are responsible for compensating damages according to their share of fault. For example, if a commercial truck driver fell asleep at the wheel and caused an accident and the trucking company allowed this individual to operate past the limit of consecutive driving hours permitted by law, both parties can be held responsible for damages. An experienced truck accident attorney can help you prove negligence and hold the responsible parties liable.
Parties that may be liable in a Los Angeles truck accident include the following:
Truck drivers

Trucking companies

Truck manufacturers

Truck owners

Cargo loaders or shipping companies

Maintenance companies

Other motorists 
What to Do After a Truck Accident
After a trucking accident, it's crucial to take the following actions:
Get to Safety
After a Los Angeles truck accident, it's crucial to pull over to a well-lit area and ensure you are not in the path of oncoming traffic. Check yourself and your passengers for injuries.
Call the Police
It's vital to call the police immediately. Truck accidents are oftentimes very hazardous and cause severe injuries and property damage for those involved.
Exchange Information with Involved Parties
Ensure you exchange information with all parties involved in the truck accident. It's important to collect the following information:
Full name

Address 

Phone number

Driver's license

License plate number

Insurance policy number

Insurance company
Take Photos and Videos
Take pictures and videos of the truck accident scene. Ensure you get pictures from different angles of the vehicles involved, skid marks, debris, broken glass, and injuries.
Talk to Eyewitnesses
If eyewitnesses are present, make sure to get their contact information. Ask anyone who saw the accident if they are willing to give their witness statement of how the truck accident occurred.
Don't Deal with the Insurance Company Alone
Oftentimes the other party's insurance company will reach out to the accident victim for a statement. Don't speak with the other driver's insurance company without having an experienced truck accident lawyer on your side. Insurance adjusters are well-trained to look for reasons to justify a low settlement or deny your claim entirely.
Commercial truck accident settlements typically have a high value due to the catastrophic injuries and losses these kinds of accidents cause. The trucking company's insurance company is motivated by its bottom line and will try to offer the lowest settlement possible.
Consult a Los Angeles Truck Accident Lawyer
It's invaluable to have a skilled truck accident attorney on your side who will protect your rights and look out for your best interests. A Los Angeles truck accident attorney will thoroughly investigate your case and help you calculate the true value of your truck accident claim. At The Law Offices of Daniel Kim, we will fight tirelessly to help you recover the full and fair compensation you deserve.
Common Truck Accident Injuries
Common truck accident injuries include the following:
Burns

Soft tissue damage

Whiplash

Lacerations

Neck injuries

Post-traumatic stress disorder (PTSD)

Wrongful death
Los Angeles Truck Accident Statistics
In 2019, there were 88,814 victims killed and injured in Los Angeles County auto accidents.
There were 35,549 victims injured and killed in the city of Los Angeles alone. Most of the fatalities in truck accidents are the occupants of passenger vehicles. This is partially due to the sheer size and weight of trucks, often weighing 20-30 times more than passenger vehicles, and the time required to stop a truck. The distance needed to stop in a loaded tractor-trailer is about 20 to 40% more than the distance needed to stop in a car.
Dangerous Roads and Intersections
Some of the most dangerous intersections in LA include the following:
Schedule Your Free Consultation Today
If you were injured in a Los Angeles trucking accident, don't hesitate to contact our award-winning personal injury law firm. The Law Offices of Daniel Kim will fight tirelessly to help you and your family during this difficult period. You don't have to deal with the trucking company and the insurance companies on your own.
Daniel Kim has recovered over $250 million dollars in settlements and verdicts for his clients. He maintains a 99% success rate and has a proven track record of obtaining the maximum compensation available. Call our Los Angeles law firm today to schedule a free consultation.
START YOUR FREE CONSULTATION
Other Practice Areas We Specialize In
Our Los Angeles truck accident lawyers serve the following LA County cities from our Los Angeles office: Agoura Hills, Alhambra, Bell, Bell Gardens, Beverly Hills, Bradbury, Brentwood, Burbank, Calabasas, Cerritos, Commerce, Cudahy, Culver City, El Segundo, Encino, Glendale, Hawthorne, Hidden Hills, Huntington Park, Inglewood, La Cañada Flintridge, Ladera Heights, Long Beach, Malibu, Manhattan Beach, Marina Del Rey, Maywood, Monrovia, Montebello, Monterey Park, Pacific Palisades, Pasadena, Rosemead, San Fernando, San Gabriel, San Marino, Santa Clarita, Santa Monica, Sherman Oaks, Sierra Madre, South Gate, South Pasadena, Temple City, Torrance, Van Nuys, Vernon, West Hollywood, Westlake Village, Westwood, and Whittier.
Directions to Our Los Angeles Office

Car Accident Lawyer Daniel Kim — Los Angeles, CA
Address: 600 Wilshire Blvd Suite 500, Los Angeles, CA 90017
Phone: (310) 295-1087
Our car accident law firm is located just east of the GRAMMY Museum LA Live, west of the Bradbury Building, and south of the Walt Disney Concert Hall.