Over the past few years, we have seen the rise in popularity of ridesharing apps such as Uber and Lyft and the way they have changed how people move around Los Angeles.
Like every other neighborhood in the Greater Los Angeles area, many residents of Encino use Uber as a cost-effective and efficient method of transportation for commuting to and from work, getting to the airport, and especially going out at night.
In 2018 it was estimated that approximately 1 in 10 of every motor vehicle on California roads is either an Uber or Lyft, and that number is much higher in Los Angeles. A quick look around when stopped at a traffic light will show you how many rideshare vehicles are on the road at any given time.
To qualify as an Uber driver, the person applying must pass a background check and a vehicle inspection.
Uber drivers are generally not commercially licensed drivers and thus do not receive any specific training in transportation methods and rules.
Many people endorse rideshare services as a way to provide people with a safe commute, but the unfortunate reality is that anytime someone is on the road there is a chance of being injured in a car accident
If you have been injured in an Encino Uber accident as either a rider or as the driver of another vehicle in a crash, contact The Law Offices of Daniel Kim immediately for a free consultation.
Contact The Law Offices Of Daniel Kim?
The simple fact is that riding in a car as either the driver or a passenger will usually be the most dangerous thing anyone does all day.
Being on the road in Encino is no exception.
Whether you are driving yourself, a passenger in an Uber, a pedestrian, or riding a bike, being on the road can be dangerous at the best of times.
If you are injured in an accident with an Uber driver, you will need an attorney that is experienced with Uber and rideshare accident cases to compete with their insurance adjusters.
Uber is a multinational corporation with an army of insurance adjusters and lawyers on staff whose primary focus is to compensate Uber accident victims as little as possible or nothing at all after being injured in a crash with one of their drivers.
Many people think they can handle the injury claim process on their own or will take advice from a friend or family member that has limited legal experience.
This is a huge mistake.
Insurance adjusters salivate at the very thought of an unrepresented accident injury victim knowing they will more than likely be able to get away with paying pennies on the dollar or denying compensation entirely.
By law, Uber is required to provide commercial insurance coverage in case one of their drivers causes an accident, but that doesn't mean they are going to roll over and simply pay injury victims without a fight.
The Law Offices of Daniel Kim have years of experience dealing with Uber accidents and their insurance companies such as James River.
We know every Uber law and tactic they will use to try and fight us.
Our priority is to make sure you are compensated fairly and can get back to normal life as quickly as possible.
Daniel Kim has well over 1000 positive testimonials on websites such as Google, Yelp, and Facebook from previous clients that felt compelled to share their experience.
We only use top investigators and state of the art methods to build your injury case and can help you get the medical care you need to make a full recovery.
You can contact The Law Offices of Daniel Kim 7 days a week, 24 hours a day with any and all questions you may have.
We encourage our clients to ask questions and will keep you up to date on the status of your case every step of the way.
Call The Law Offices of Daniel Kim today and let us help you get the compensation you deserve.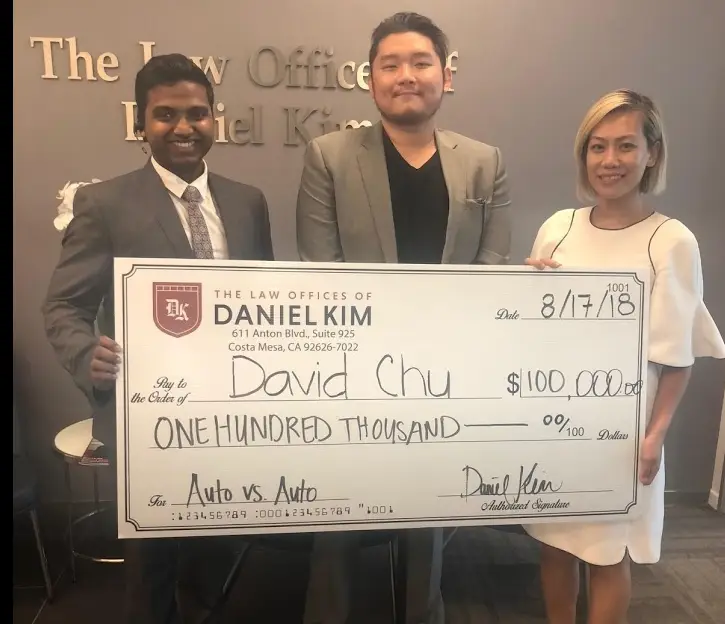 How Much Is My Uber Accident Injury Case Worth?
Valuing your case will begin in our first meetings, however, we will not be able to attach an accurate monetary amount on your case until we conduct a thorough investigation of your accident and the injuries you have sustained.
We will work closely with several experts in different fields that will help us determine the reason and circumstances causing your crash, as well as the extent of your injuries.
This will be an ongoing process as we build your case and you go proceed with your medical recovery.
As you do this, we will be starting to compile reports from your doctors and medical professionals to strengthen your case.
Once we are satisfied that we have enough evidence and have built your case strongly, we will put a value on what we believe your injuries and damages are worth.
We will then contact the negligent parties and their respective insurance companies to start negotiations for fair and just compensation for the stated injuries and damages you have sustained.
Some of the things we will seek compensation for could include:
Current medical bills
Future medical care costs
Loss of wages
Pain-and-suffering
Vehicle and property damage
Disability
Disfigurement
What we will actually seek compensation for will of course depend on the circumstances surrounding your case.
If all goes smoothly, the insurance company representing the negligent parties will accept liability and negotiate quickly and fairly.
However, if they do not, or you are not satisfied with any of their settlement offers, The Law Offices of Daniel Kim will not hesitate to take your case to trial to get you the financial compensation you deserve.
What Should I Do After I Am Involved In An Uber Accident?
Anytime you are involved in a motor vehicle accident there are a few things you can do that will help your health and strengthen your case.
1. It may be difficult given that you were just involved in a traumatic accident, but try and stay calm. If you are physically able, check on the well-being of everyone else in the vehicle, and exit the vehicle as quickly and safely as possible.
2. Call 911 to report the accident even if you think someone else may also be calling. Ask the emergency response operator to send both police and medical help.
3. Collect as much evidence from the scene as possible. Take photos and videos of everything such as any injuries sustained, damages to the vehicles involved, damages to other property, road conditions, street signs or road markings, weather conditions, and anything else you can think of. There is no such thing as too many photos.
4. Get drivers license, registration, insurance information, and phone numbers for all drivers involved. Collect the name and phone number for the police officer that is taking the police report. And lastly, get the contact information for witnesses or bystanders that may have seen the crash.
5. This is the most important step – seek medical treatment immediately. This applies if you think you just have minor injuries or are not sure you are injured badly enough to warrant a trip to the hospital. You should always accept a ride to the local hospital emergency room in an ambulance when offered, as quite often you could be more injured than you think as some serious symptoms may not be showing just yet after your adrenaline has kicked in. Going to the emergency room and following up with your family doctor can help save your life and help build your case before we start negotiations with the insurance company.
6. Contact the experienced Uber accident legal team at The Law Offices of Daniel Kim and let us help you get the compensation you deserve.
Encino Uber Accident Stats
As of 2019, Transportation Network Companies (TNC's) such as Lyft and Uber do not publicly disclose the accident statistics that their drivers were involved in.
Some experts have argued that the rise in popularity of rideshare services such as Uber has also led to an increase in traffic accidents, especially in major metro areas like Los Angeles.
A study by the University of Chicago and Rice University has estimated that traffic fatalities have shown an increase of between 2% and 3% since the Uber and Lyft have been in operation.
In 2017, there were 485,866 reported car accidents in the State of California which resulted in 276,823 injuries and 3,898 deaths. Los Angeles County had the most injury and fatality accidents in the state with 91,468.
Worst Roads In Encino
Because of Encino's location and proximity to both the 101 and 405 Freeways, the area sees a high amount of vehicles traveling on and through its neighborhood roads day and night.
The on and off ramps to the 405 and 101 freeways can be particularly hazardous, especially in bad weather or late at night.
Some of the busiest roads in Encino include:
Sepulveda Blvd.
Ventura Blvd.
Balboa Blvd.
Victory Blvd.
Lindley Ave.
Mulholland Drive.
White Oak Ave.
Hayvenhurst Avenue.
Oxnard Street.
Haskell Ave.
Burbank Blvd.