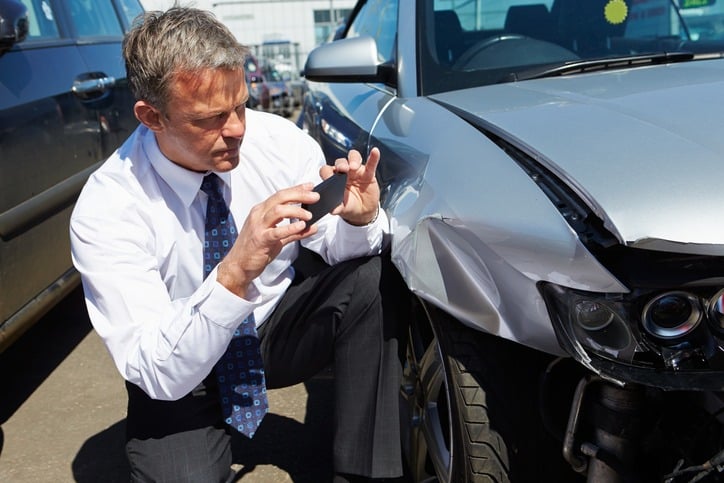 Hit By Uninsured Driver – What You Need to Know
If you or a family member get into an accident that is caused by a negligent driver, you need to know how the law works and what your best steps are.
In California so many drivers don't have car insurance (or just the bare minimum) but they drive everyday on the same roads you and your loved ones travel on.
The best way to protect yourself is to truly understand how insurance works and what your options are.
So if you are injured by an uninsured motorist you'll be prepared for what lies ahead.
The best thing you can do after an accident is to speak with an experienced car accident lawyer.
Call Daniel Kim Law Offices for Free consultation.
What is Uninsured Motorist / Under Insured Motorist
If you are injured in an auto mobile accident with an uninsured driver, then you would be able to use your own UM / UIM insurance coverage.
By adding this additional policy to your insurance, you'll be happy you did when the day comes that you need it – as they say "accidents happen" so be prepared.
Underinsured Motorist Coverage – this would be used when the driver at fault for the accident has insurance but they don't carry a large $ enough policy to cover your damages and injuries.
Uninsured Motorist Coverage – this would be used if the driver at fault for the accident doesn't have insurance at all (illegal in California), or if the accident is a hit and run.
Why Contact Law Offices of Daniel Kim
Dealing with the aftermath of any car accident is quite stressful, but when you are injured in a car accident that involves another driver without insurance, it gets even more complicated.
Daniel Kim and his legal team have years of experience helping injured victims who were hurt by an uninsured driver.
Don't fight the insurance companies alone, Call Daniel today for a FREE consultation.
Call Daniel Kim today and he'll help –
Get your car repaired or get top dollar for replacement
Get you the medical care you need and help with medical bills
Get your lost wages and income
Tell you how much $$ your case is worth
Fight to get you maximum compensation
Get you a  FREE 2nd opinion even  if you already have a lawyer
Daniel Kim and his law firm have 5 Star Reviews from over 1000 clients on Google and Yelp.
Daniel Kim Law Firm is very experienced helping people who've been injured by uninsured drivers.
More reasons why you need to contact Daniel Kim and his team –
Our settlement success rate is over 96%
You can contact us 7 days a week, 24 hours a day
We only handle car accident injury cases – we know what we're doing
We can come to you today  – at the hospital, your house, or job
When you call us you can speak with Daniel Kim himself, not just an employee
Steps To Take After Being Hit By Uninsured Motorist
Sadly there is a good chance you'll be in a few accidents in your lifetime here in California.
It can happen just like this, you are waiting at red light and BAM, a car hits you from behind.
After being rear-ended you feel some whiplash and neck pain and you pull off the road.
The other driver pulls over also and then tells you they have no car insurance.
Don't panic, instead follow these steps –
Call the police – it's always smart to call the cops and have them show up and make an official police report which you'll need later when you hire Daniel Kim.
Exchange information – even though they don't have insurance you want to get their drivers license and contact info.
Take pictures – you will want evidence of your car, the other car, the scene itself, your injuries, etc.
Get witnesses info – if there are witnesses get their contact info also
Call Daniel Kim Law Offices – Don't wait or stall, call us immediately and protect your legal rights.
Why Do You Need UM / UIM Coverage
Although driving a car in California is a right, it should also be considered a bonus.
Many drivers both young and old don't have any car insurance, and many don't follow the traffic laws.
With all of this in mind you want to understand how insurance works because it's complex.
California state law does require all drivers to carry a minimum auto-liability auto policy of $15,000 / $30,000.
This simply means that your insurance will pay no more than $15,000 for injuries per person and a total of $30,000 per accident.
The state of California insurance website offers great details.
You don't want to rely on other unsafe drivers to carry the proper insurance based on these type of factors listed below:
1 in 8 California drivers was uninsured in 2016
Most accidents exceed the minimum insurance coverage that drivers carry
An estimated 1 in 3 drivers was underinsured
Normally drivers without insurance don't have many assets to go after in court
Don't Take Cash from Uninsured Driver at Scene of Accident
If you are suddenly rear ended or side swiped and you find out the other driver doesn't have car insurance, it can be tempting to let them pay you cash.
This happens a lot when the uninsured motorist doesn't want you to call the police after you've been hit, but don't accept cash in this situation.
When you have just been hit you'll be stressed out and your body might go into shock which can lead you to believe you are not injured.
At this point you won't know if you are injured, or how bad the injuries actually are (until you seek medical help), not to mention you won't know what the damage is to your vehicle.
So even though you might be tempted to take a $1,000 or whatever in cash, don't do it.
Can You Sue an Uninsured Driver?
The basic answer is yes you can sue an uninsured driver (or underinsured) after a collision.
Daniel Kim Law Office is very experienced in helping car accident victims that were injured by uninsured drivers.
If you were injured as a passenger in a car wreck, you have legal rights also.
Many times these drivers who have no insurance also don't have a lot of possessions or money and fighting the insurance companies and court system is difficult.
Suing an uninsured driver is worth it if you can get your medical bills and vehicle repairs paid for.
But don't take all this on your shoulders  when it comes to filing a lawsuit.
 Call our legal team today for a FREE and professional consultation.
When you hire us you don't pay us any money unless we win your case and get you compensation.
So there is no risk when you call Daniel Kim and his law firm.
Common Injuries From Uninsured Motorist Accidents
These types of accidents usually see the injured victims suffer from the same types of injuries as any other motor vehicle crash.
There are so many factors that can determine what injuries happen,  like what kind of vehicle were you driving, what type of car hit you, were you wearing a seatbelt, your age and health, etc.
If you've been injured in a car accident always go to the hospital to get medical treatment, and after that contact Daniel Kim Law Offices to get answers to your questions.
These are the common injuries we see –
Head injuries
Facial injuries
Back and neck
Lacerations
Internal injuries
Common Causes of Car Accidents
If you are lucky you might go through your entire life and never be involved (or injured) in a car accident.
But the odds are that at some point you (or a loved one) will be in a car accident and potentially injured.
The NHTSA offers detailed stats on this subject.
There are literally a hundred common causes for car crashes, but sadly most are due to driver error (meaning somebody being negligent).
It might also depend on what the person is driving for, say if you work as a driver for Amazon or Uber Eats you might be in a hurry.
Below is a list of the common causes for auto accidents here in California.
Distracted driving – texting, emailing, looking at kids in backseat, etc.
Speeding – people never learn and still go well above posted speed limit signs
Alcohol and drugs – pills, booze, weed, etc.
Mechanical failure – faulty brakes, bald tires, broken windshield, etc.
Road conditions – heavy rains, potholes, missing street lights
Road rage – people act ignorant and run each other off the road
How an Uninsured Driver Claim Works
If you have been injured in a car accident and you believe the other at fault driver doesn't have auto insurance, then you should contact your insurer ASAP.
Some automobile insurance policies will have strict deadlines on their customers when it comes to the "notification of potential uninsured claims".
Sometimes this deadline could be just 30 days so don't delay.
But remember that companies like Metromile insurance might be different than State Farm or All State.
If the other driver tells you they don't have insurance, or if you just simply can't get that information then you need to inform your insurance company immediately.
This is also the time to contact Daniel Kim Law Offices so we can help.
An underinsured driver claim usually takes a little longer to develop.
Normally you won't know right away that you are going to have an underinsured driver claim, as you'll probably have to wait until your medical treatment progresses and our law firm gets a better understanding of how much your car accident case is gonna be worth.
As soon as Daniel Kim and his staff believe that your case is worth more than the defendant's liability coverage in place, your insurer needs to be notified right away that an underinsured claim is being made.
This whole process is time consuming and stressful with stuff like the pretrial investigation, deposition of witnesses and disclosing medical records, etc.
This is why you need to contact Law Offices of Daniel Kim today to protect your legal rights and to protect your family.